The Gnarticle: Sports Club Travels to Vermont
---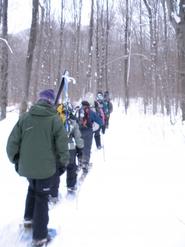 Eleven Hamilton students and alumni convened in Manchester, Vt., on a backcountry Gnar Club trip over the winter break, Dec. 31 to Jan. 7. For those unfamiliar with the Hamilton Gnar Club, its club description explains that it is a "Grouping of sessioning and carousing fun makers often to be found in the hills, the forest, the park, or over the steps." Dave Hyman '12 explained that Gnar "seeks to explore the internal freedom of the childhood aesthetic in an exterior world defined by self-seriousness and maximizing efficiency...in other words, having FUN!"

For two days, the group was blessed with a snowstorm that brought two feet of snow, making it possible for them to ski, snowboard, snowshoe, sled and have snow-ball fights in deep powder. The group built a backyard booter (kicker or jump) at their home base which they vaulted off frequently when they weren't on the mountains. They stepped it up a notch when they decided to go off the jump at night in their bathing suits, followed by a run to the steaming hot tub.

Among their many adventures, the group spent two days exploring the supposedly haunted old abandoned Snow Valley ski area in Manchester. They used snow shoes borrowed from the Hamilton Outing Club to hike up the mountain. Those who were not skiers or snowboarders simply gnared the hike up and ran, or, in some cases, sledded down. Snowshoer Ethan Kamer '10 explained that you do not have any particular skill to be Gnar or join Gnar Club and that a Gnariphany (Gnar epiphany) can happen to anyone who is willing to let it happen.

I've learned from my experiences walking across logs over vast ice crevices on snowshoes that this old sport can get pretty Gnar. At the beginning of this trip I don't think I was technically part of the Gnar club. But this was like my initiation - hit that kicker on a snowboard, knocked my head pretty good. Trial by snow, you know? It made me realize finally what Gnar stood for."

Those who did ski or strapped their skies or snowboard to a backpack (in which they also packed a med kit, lunch, duck tape, and cameras). They reached the top of the hill where one lonely chairlift swung just within reach, and then skied, snowboarded, snowshoed and sledded down.

Gnar club members spent two other days exploring Equinox Mountain, the highest mountain in South Western Vermont. The first day, the group failed to summit due to extreme weather conditions, but they still enjoyed the long shred down the wide hiking trail. The following day they attempted another summit. For five hours they hiked up the trail that got narrower and steeper as they went higher. In the summer this mountain is a busy, friendly place with a hotel at the summit, but in winter the Gnar club members were alone and the mountain was much more foreboding. The group wisely decided that the trail down through the trees would be unsafe and instead skied down the snow-covered road that cars use to reach the summit hotel in the summer. After four miles of skiing that took an hour they reached the bottom just before the sun set.

The Gnar club's vision is to share their love of fun with the world. Last semester, Student Assembly generously bought the Gnar club two helmet cameras. The cameras are being used to capture footage for the annual Gnar Club Film Festival that takes place every spring. Thus far, footage has been collected from mountain biking in the glen, doing flips off the diving board in Bristol Pool, snowboarding at Tug Hill Plateau, and now from skiing and snowboarding in Vermont. "Being able to see things from the rider's perspective is sometimes a bit more interesting... either that or we're just huge GNARcissists," explained Hyman.

Future Gnar plans include a MiGnar late night event, a trip out west, an exploration of New York's 57 abandoned ski areas, slack-line walking, a Pho Show, and a service-oriented program. Nate House '12 said that he "believes strongly in the vision of sharing our passion of doing things outside the box in a creative, ridiculously fun and outrageous way. Life is about constantly challenging the boundaries of what is possible outside of our comfort zone and inviting other people and their ideas to join in." The group is also looking into sponsorship/filming possibilities with Bikes and Boards, a shop in New Hartford that said they would like to see the Gnar Club's footage.