How I Got My First Job: Zeeshan Haider '09
---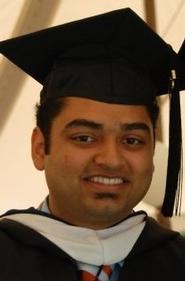 On May 9, 2009, the Wall Street Journal published an article titled "The Curse of the Class of 2009" and, based on my experience, nothing could be closer to the truth. The challenges of graduating into such an economic and financial situation are obvious; however, they also provide opportunities for us to show our resilience, perseverance and courage.
I came to Hamilton College from my home in Kuwait already knowing that I wanted to major in Economics, and I picked up World Politics along the way. My career path began in my first year at Hamilton, because I knew that I had to play catch up with regard to my summer work experience (the summer job culture does not exist in Kuwait). I went to a Career-Related Experience workshop run by Jeannine Murtaugh and Kino Ruth from the Career Center and used that to apply for work at the Explorations Summer Program in Wellesley, MA.
The program was a superb experience in terms of building my skill-set for a wide array of future internships and jobs. Teamwork, working in demanding environment, multi-taking, time management and communication were all skills that I sharpened through this experience. I came to realize that the key to procuring future internships and jobs was to have the ability to demonstrate to future employers that you have the skills that they are looking for even if those skills were used in a different job function.
Sophomore year, I participated in the Hamilton in New York City program where I managed to land an internship at ING Investment Management. Numerous meetings with Kino at the Career Center helped me put my resume in order and get the name of Hamilton alum Arthur Kalita, who facilitated the opportunity at ING Investment Management. I worked at ING for seven months completing the semester and the summer, and it convinced me that the field of financial services was the right industry for me.
With risk tolerance decreasing and actual risk increasing in financial markets, I thought it was time to invest in a risk-based internship. I got my break when a Hamilton alum named Meno Stroemer returned to campus to give an information session on his experience running the Latin American fixed income trading desk at UBS Investment Bank. We had a good discussion during the information session and then a great first-round interview at the Career Center the very next day. Within the next month, I had gone to the bank's office in Stamford, Connecticut and had landed an internship within their credit risk department.
Entering senior year, I worked harder than ever to find a job; I e-mailed, talked to and interviewed with anyone and everyone who would give me a chance. Fortunately, I was able to land 48 job interviews either over the phone or in person. Unfortunately, I received zero job offers. An opportunity finally opened up during a conversation I had with my classmate during senior week at Hamilton. I got in touch with his father, who is a manager at the Bank of New York Mellon Corporation. Within six weeks of graduating, I had procured gainful employment in the asset servicing division within their operations department. While it was clearly not the opportunity I had been hoping for, it was a crucial break in allowing me to move to the next chapter of my life.
While working at the Bank of New York Mellon Corporation, I continued my search for other career opportunities. Through sheer perseverance and a large slice of luck, I was able to get in touch with another Hamilton alum, Charlie Boyer, to set an interview with the credit rating agency, DBRS, in New York City. After a five hour interviewing session, I was able to land an offer from the firm and gratefully accepted it. Currently, I am living and working in New York City. I am grateful for the challenges that I have had to overcome in order to get where I am today, and I am thankful to have had the support of so many wonderful people along the way.