How I Got My Internship: Randy Telfer '12
---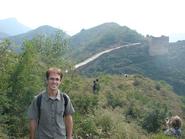 The Career Center at Hamilton College is a tremendous resource of which first years and seniors alike should take advantage. I made my first visit to the Career Center as a second-semester sophomore who found the process of researching and applying for summer internships daunting. However, after my first meeting at the Career Center, I had much more confidence and a greater understanding of how to go about finding an internship. In just one meeting with my advisor, I was able to categorize my career interests and identify several possible internships that were only a few miles away from my home in central Connecticut.
After exploring these options, my advisor taught me the basic guidelines of drafting a cover letter and many useful "Do's and Don'ts" for all the intimidating interviews that were to come. One of the most valuable pieces of advice that my advisor shared with me was to keep an open mind and always have alternative options. This is very important to keep in mind especially during rough times in the job market.
I had the great privilege of volunteering as an intern at the Connecticut Department of Environmental Protection (CT DEP) during the summer of 2010. Although I did not have any experience in the environmental field before this summer, I have always been eager to contribute to the endless effort of environmental protection. I gained a great deal of insight about how environmental organizations such as the DEP operate.
During my tenure at the DEP, I worked on numerous recycling projects within the Waste Engineering and Enforcement Division. When I first started, many local state agencies had just changed their recycling programs to single-stream recycling. Because most local agencies primarily consume office paper and comparatively produce very little plastic and metal waste, the switch to single-stream is problematic. The office paper is comingled with other materials, and thus downgraded in quality when recycled. In order to maintain the highest quality possible for recycled products produced by these agencies, my colleagues and I drafted a contract that would keep high-grade office paper separate. If all agencies in the greater Hartford, Connecticut area sign on to this contract, the high volume of paper produced by these office buildings can be recovered for more effective recycling.
If I am fortunate enough to intern for the DEP again next summer, I hope to continue working on this project and ensure that the recycling of paper and other materials is as effective and sustainable as possible.