The Rev. Sandy Webb '05 Serves as Volunteer Chaplain for the Roanoke Fire Department
---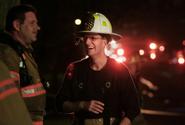 The Rev. Sandy Webb '05 serves as the first Fire-EMS chaplain in years for the Roanoke fire department.
Webb joined the department by riding along with the firefighters on calls and spending time with them in the station. In the past the role of the volunteer chaplain was predominantly to lead people in public prayer during ceremonies and special events. Deputy Chief Ralph Tartaglia hopes that Webb will take a more personal approach and "give an avenue to our people, because they have lots of issues, to give them someone to call."
Webb serves full time at St. John's Episcopal Church and was drawn to the position of volunteer chaplain for the Roanoke Fire Department in 2011.
At Hamilton, Webb majored in government and economics.