The State of Civic Education
---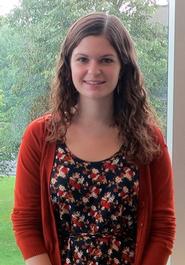 Civic engagement is essential to a community's well-being and can be defined, in part, by citizen participation in after school programs, volunteer opportunities and political causes. To benefit both themselves and society, citizens can become more informed about, and involved with, these projects. However, the availability of these opportunities differs between high- and low-income areas. Krista Hesdorfer '14 is examining the correlation between civic learning and the growing income-based achievement gaps in the U. S. with Director of the Education Studies Program Susan Mason.
"Civic education can range from approaches that focus on basic names and dates to much more comprehensive citizenship education," which encourages civic engagement and participation in correcting issues that students find important, said Hesdorfer. She is exploring the effects of this schooling in her project titled, "Civic Learning and Income-Based Achievement Gaps in the United States' K-12 Education System," funded by the Arthur Levitt Public Affairs Center.
Student-led service learning projects are an example of civic education. For example: biology students find that a nearby lake is polluted. They can learn more about the issue by studying the effects of, and current laws regarding, lake pollution and create potential solutions. Students may then organize a cleaning campaign, or write letters requesting stricter environmental protection to local and state politicians.
Hesdorfer will first ascertain how opportunities for civic education vary by socioeconomic class. She found "lower income citizens are bound to have lower civic education and extracurricular opportunities." In addition, even if lower income areas offer these opportunities, research has shown that the children are less likely to participate.
The second significant connection between civic education and income-based achievement gaps is that many benefits from civic learning also contribute to academic success. Hesdorfer said this is "clearly a problem when certain areas don't have civic education." If civic engagement teaches students critical thinking and problem solving skills that are transferrable into the classroom, children with more civic education opportunities will gain an academic advantage. Civic learning is correlated with improved self-confidence and a greater sense of self-efficacy.

Finally, Hesdorfer found that better civic education is correlated with increased civic engagement. Voter participation improves for years after citizens have been exposed to this kind of education. Improving civic education can introduce "lots of potential for positive long-term changes," according to Hesdorfer. If more students from low-income areas vote once they are old enough, their opinions can lead to political reform.
To discover how civic education affects a population, Hesdorfer is looking at others' analyses of data from the National Education Longitudinal Study of 1988 and other surveys. This correlational research studies takes repeated observations of the same variables, like voter participation, over extended time periods.
Hesdorfer's inspiration for the project developed when she interned with the education team at Youth Service America. Hamilton alumnus Steven Culbertson '79 (www.hamilton.edu/news/story/steve-culbertson-79-to-give-keynote-at-coop-opening) is president of the international non-profit center that improves volunteer opportunities for young citizens. While in this position, she learned how many benefits are derived from service learning, which is only one aspect of civic education.
"If civic education is a part of a good education and it contributes to more political involvement, which the data shows, shouldn't this be an ideal for all schools?" says Hesdorfer. She is challenging current curriculums and "would really like to make a solid case for expanding civic education in K-12 schools."
Hesdorfer is a graduate of Middleburgh High School (N.Y.).