Theatre Department Presents The Dispute
---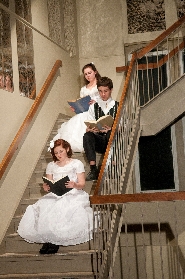 The Hamilton College Theatre Department announces its Fall production, The Dispute by Marivaux, translated by Gideon Lester. Performances will run Thursday, Nov. 1 – Saturday, Nov. 3, at 7:30 p.m., and Wednesday, Nov. 7 – Saturday, Nov. 10, at 7:30 p.m., and at 2:30 p.m., on Saturdays, Nov. 3 and Nov. 10. All performances take place in Minor Theater.
Professor Carole Bellini-Sharp directs Marivaux's The Dispute - a classical story of love, desire, betrayal and passion. The play shows a timeless cautionary tale about the danger and intrigue of power and seduction. This translation by Gideon Lester, first performed by Anne Bogart's SITI Company to much critical acclaim at the American Repertory Theatre, is set on a contemporary battlefield of the sexes, with the young lovers going at one another with wit and passion.

The Dispute features Hamilton students Sarah Caswell '14, Michael Breslin '13, Torian Pope '14 , Alex Dorer '13, Kyra Jackson '14, Brian Evans '15, Wynn Van Dusen '15, Josh Bridge '14, Michael Gagnon '16, Kiki Sosa '15, Lizzie Buchanan '15 and Louise Owens '16.
Andrew Holland is set designer and David Stoughton designed the lighting and sound.
Tickets for the performance are $5 for the general public and $3 for students. Seating is limited and reservations are strongly encouraged. For more information or tickets call the Theatre Department office at 859-4057.