Theatre Department Presents The Marriage of Bette and Boo
---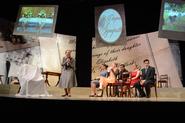 The Hamilton College Theatre Department announces the spring theater production, The Marriage of Bette and Boo by Christopher Durang. Performances will run Thursday, April 18 – Saturday, April 20, at 7:30 p.m., and Thursday, April 25 – Saturday, April 27, at 7:30 p.m. There are two additional performances at 2 p.m. on Saturday, April 20, and Saturday, April 27. All performances take place in Minor Theater on the Hamilton campus.
Directed by Professor of Theatre Craig Latrell, The Marriage of Bette and Boo is a dark comedy takes a look at the complex marriage of Bette and Boo. Three decades of marriage, divorce, alcoholism, nervous breakdowns and death - all blended in a unique mix of irony, humor and farce.
The Marriage of Bette and Boo features Hamilton students Peter Bresnan '15, Alex Dorer '13, Brian Evans '15, Shea Crockett '15, Jenna Langbaum '15, Wynn Van Dusen '15, Minou Clark '14, Nico Keller Sarmiento '13, Lizzie Buchanan '15, Michael Breslin '13.
Tickets for the performance are $5 for the general public and $3 for students. Seating is limited and reservations are strongly encouraged. For more information or tickets call the Theatre Department office at 859-4057. This performance contains language or situations that are not appropriate for young children.