Theatre Department Presents Spring Production Orestes 2.0
---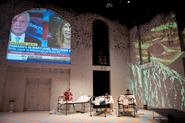 The Hamilton College Theatre Department will present its Spring Theater Production, Orestes 2.0 by Charles Mee. Performances will run Thursday, April 12, through Saturday, April 14, at 8 p.m., and Wednesday, April 18, through Saturday, April 21, at 8 p.m. There is an additional performance at 2 p.m. on Saturday, April 14. All performances will take place in Minor Theater.
Directed by Professor of Theatre Craig Latrell, Orestes 2.0 is a postmodern version of Euripides' classical tragedy. With language inspired by or quoted directly from popular culture icons John Wayne, Vogue, Soap Opera Digest and other sources, ancient and modern converge as veterans return from the Trojan War only to find that the disorder and nightmare of war has come home with them and rendered their homeland ruined forever.

Orestes 2.0 features Hamilton students Michael Breslin '13, Wynn Van Dusen '15, Kadahj Bennett '12, Nile Berry '14, Lizzie Buchanan '15, Shea Crockett '15, Brian Evans '15, Jonathan Higginbotham '12, Anna Jastrzembski '14, Ryan Park '12, Shayna Schmidt '12, Jordyn Taylor '12, Brittany Tomkin '12 and John Whitney '12.

Tickets for the performance are $5 for the general public and $3 for students. Seating is limited and reservations are strongly encouraged. For more information or tickets call the Theatre Department office at 859-4057. This performance contains language or situations that are not appropriate for young children.