Thickstun's Milton Marathon Featured in USA Today
---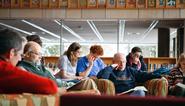 Margaret Thickstun, the Elizabeth J. McCormack Professor of English, was featured in a USA Today article (5/12/11) about her Milton Marathon. The article was reprinted from Inside Higher Ed. Alumnus John C. Ulreich, '63 a Milton scholar at the University of Arizona, was also featured in the article for holding the 13th annual Milton Marathon at the University of Arizona.
This past February Thickstun held her second Milton Marathon, in which students, faculty and administrators read aloud portions of Milton's epic poem Paradise Lost. In the article she explained that "the readings also help students deal with 17th-century language with which they might not be familiar and determine how the poem's meter affects the narrative."
Thickstun observed, "Poetry, by nature, is a very oral medium. It's almost the expectation of the poet that you're hearing the work out loud."
Ulreich added, ""Milton is meant to be heard, not just seen." He noted, "Milton was blind when he wrote it. But he could hear it. When you hear it out loud you get meanings, especially emotional meanings, you wouldn't get any other way."
The Milton Marathon was also featured in The New York Times earlier this year.