Third Stone Uncovered by Student Archaeologists
---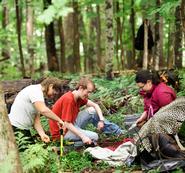 It is not often that an archaeology class has the opportunity to excavate a site of probable historic significance without leaving campus. It is rarer still that students make two significant discoveries at that site within a month.
Having examined a previously discovered inscribed stone at the class' site, members of the Archaeology of Hamilton's Founding course have unearthed two additional inscribed stones in their first month of digging. The most recent was uncovered on Sept. 29 and is related to the other two, according to Assistant Professor of Anthropology Nathan Goodale, who developed and teaches the course.
As earlier reported, there existed a stone in the woods on the class' site with the inscription "This tree was planted by Samuel Kirkland to mark the property line between the Whites and the Indians, surveyed in 1768." Quite a few members of the campus community were aware of the stone's existence prior to the beginning of the course, although there was no consensus as to who might have been responsible for its wording or placement.
Students began digging on Sept. 1, and on Sept. 13, they uncovered a second stone on which was carved, "Built to commemorate the dawn of the 20th century and the fiftieth anniversary." The third stone is inscribed with a "compilation of North/Reed family names," according to Goodale.
Suspicions were originally focused on Edward North, Class of 1841, as the individual responsible for the words on the first two stones. Known as "Old Greek," as he returned as a professor and taught Greek and Latin at Hamilton for more than half a century, he lived in the house closest to the marker.
The property line to which the first stone refers may be the dividing line established under the Treaty of Fort Stanwix. The second stone, found among a grouping of stones that forms the stone structure at the site, has the same font, and Goodale believes, is the same kind of rock as the first. He and the students now surmise that all three stones were created around 1899 or 1900 given the reference to the dawn of the 20th century on the second.

They believe the initials, ENR, found on the first two stones are those of Edward North Reed, Edward North's grandson. The third stone's listing of North/Reed family names further reflects the connection between all three.

The reference on the second stone to the 50th anniversary may relate to the fact that North was the originator of the half-century letters written by appointed alumni for 50th class reunions.
Christine Roback '12 found the third rock. Of the discovery, Goodale said, "This is very exciting. This doesn't happen very often in archaeology."