Thomas Booth '06 and Ben Preston- Fridman '06 Start The Buffet of the World
---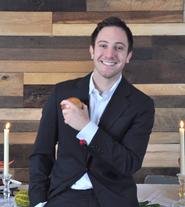 The New York Daily News recently featured an article on Thomas Booth '06 and Ben Preston-Fridman '06, who have started The Buffet of the World, a company that sells reusable shopping bags. Each bag features a fork with tines, each designed to match famous landmarks of great cities: the Empire State Building, the Eiffel Tower, Big Ben, and the Leaning Tower of Pisa to name a few. "The fork represents the idea that you should reach out and try everything that's offered in your city," said Booth.
The idea came to them after a conversation between Tom and Ben, in which they reflected on their time spent living in the city since graduation. A native New Yorker, Ben's transition was as easy as a trip home, whereas Booth's was less seamless. During one of his first trips to the city, Booth was held at knifepoint in broad daylight in Manhattan. Disillusioned about the city, Booth ultimately resolved to give the city a second chance, and learned to appreciate and celebrate what makes New York great: That it's a buffet of almost every cuisine, culture and experience he could think of. Preston-Fridman was drawn to the idea, and proposed they start a brand.
To help their home, and promote a sustainable future, ten percent of the proceeds from each product they sell is donated to a charity of the buyers choice: East Side Settlement House, Grow NYC, and God's Love We Deliver. Booth and Preston-Fridman have sold 700 bags in their first year and plan on expanding to T-shirts and canvas totes.
At Hamilton, Booth majored in art and history and was a member of Alpha Delta Phi. He is currently a digital manager for Scholastic Inc. Preston-Fridman majored in public policy. He played men's baseball and soccer and was a member of Alpha Delta Phi. He currently works for a real estate investment and management company.