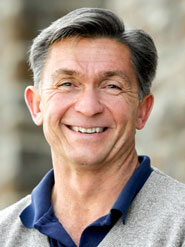 Dave Thompson, director of the Charlean and Wayland Blood Fitness and Dance Center, Campus Wellness director and professor of physical education, was a panel member during the American Heart Association's second annual Fit-Friendly Worksite Wellness Symposium.
The event was held June 18 at the Vernon Downs Casino Hotel in Vernon, N.Y. Attendees came from more than 30 companies to network and learn about ways to help employees stay healthy.
The "Worksite Wellness Expert Panel" was made up of representatives of companies that have been successful in creating a culture of worksite wellness. The discussion centered on topics such as how to implement and sustain an effective wellness program, the impact of the Affordable Health Care Act on such programs, and partnerships between corporate wellness and insurance carriers.