Three Hamilton Alumni Selected to Leadership Positions with the New York Law School Review
---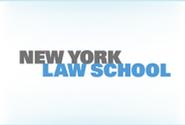 Three Hamilton alumni were selected to the top leadership positions with the New York Law School Law Review for the 2013-14 academic year. William Bartholomew '08 and Helen Quigley '10 have been named editor-in-chief and managing editor, respectively, and William Lemon '08 was selected to serve as an executive editor. Bartholomew, Lemon, and Quigley will receive their juris doctorates in 2014. Both Bartholomew and Quigley graduated from Hamilton with degrees in world politics, while Lemon majored in philosophy and religious studies.

During their time at Hamilton, Bartholomew participated on the Men's Indoor and Outdoor Track and Field and Cross County teams, Quigley was a member of the Women's Crew team, and Lemon was responsible for organizing, promoting, and acting as Al-Ham, the mascot, at various community and sporting events.

The New York Law School Law Review is a journal of legal scholarship edited and published by students at New York Law School four times a year. The Law Review publishes articles, notes, comments, essays, book reviews, and speeches on many areas of legal scholarship. It also hosts symposia and events that are developed by the Law Review's editorial staff in collaboration with the New York Law School faculty and academic centers, and in partnership with other organizations.