Ticket Prices Announced for Jon Bon Jovi Concert
---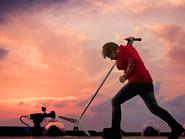 Ticket prices have been announced for the Jon Bon Jovi and The Kings of Suburbia benefit concert for scholarships and the arts at Hamilton College.
Seats range in price from $25,000 for the front row with an opportunity to meet and have a photo taken with the music superstar, to $500 for general admission. All tickets are eligible for a tax-deductible contribution.
The concert will take place on Wednesday, Dec. 5, at the Best Buy Theater in New York's Times Square. Fewer than 1,200 tickets will be sold guaranteeing an intimate evening of popular Jon Bon Jovi music, as well as classic rock and roll songs.