The Return of Cram & Scram
---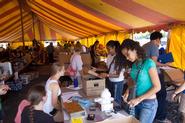 Bag it, don't toss it. Hamilton's annual clear bag reuse and recycle program known as Cram & Scram is back. Its purpose is to reduce the college's burden on the local landfill by putting aside items that the student body can use next year.

Last year, the student-run Cram & Scram program was enormously successful. The purpose of Cram & Scram is to collect recyclable/reusable items from residence halls – everything from furniture and appliances to clothing, books and unopened food items. Rather than throwing the items away and sending them to the county landfill, they are collected and sorted for reuse.

With the items collected from last May's Cram & Scram, a tent sale was held on campus at the beginning of the academic year. Couches, TVs, microwaves, storage bins, school supplies and countless other necessities sold at bargain basement prices. The items collected last May for the sale filled four 48-foot tractor trailers. Another sale will be held this August before classes resume.

Other, non-saleable items collected are put to good use too. Assistant Director of Physical Plant, Grounds, Horticulture, & Arboretum Terry Hawkridge reported that last year 2,164 pounds of bedding went to the Humane Society, 896 pounds of books were sent to Prevent Child Abuse New York, 4,928 pounds of clothing were donated to the Salvation Army, 644 pounds of food went to the Clarks Mills Food Pantry and six bikes went to the Underground Café. More than 10 tons of paper was recycled.

In 2007, Hamilton sent 140.53 tons of municipal solid waste (MSW) to the county landfill, a number that alarmed the College and caused students to rethink what they threw in the trash. Hawkridge and some students proposed the Cram & Scram program as a response. It has been very successful ever since.

Hawkridge, who spearheaded Cram & Scram at Hamilton, estimated that "we've dropped 40 to 50 tons of municipal solid waste from May '07 to this year. This is corporate responsibility." Another benefit was that so much was taken out of the waste stream that Physical Plant employees didn't have to work overtime clearing out residence halls to prepare for Reunions.