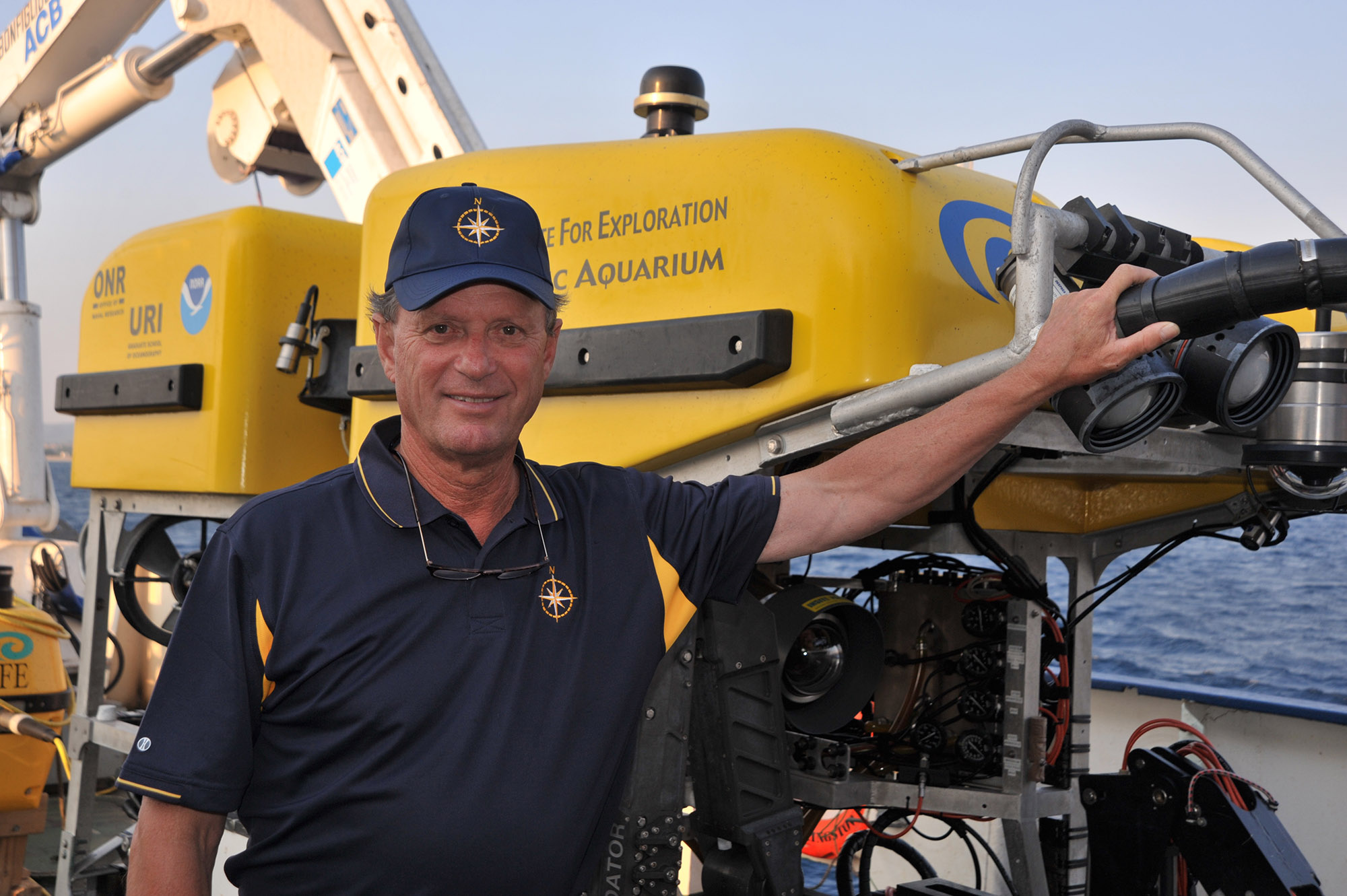 Oceanographer Robert Ballard, best-known for his work in underwater archaeology and historic discoveries including the Titanic, will give a lecture on Wednesday, March 30, at 7:30 p.m., in the Chapel. The lecture, titled "Ocean Exploration: Past, Present and Future," is free and open to the public and will be sign-interpreted. It will be followed by a reception and book-signing in the Taylor Science Center Atrium.

Ballard discussed his upcoming Hamilton lecture on Northeast Public Radio WAMC on March 28.
Ballard is best known for his underwater discoveries of hydrothermal vents, the sunken R.M.S. Titanic in 1985, the German battleship Bismarck, John F. Kennedy's PT-109 and numerous other contemporary and ancient shipwrecks around the world.

During his long career he has conducted more than 120 deep-sea expeditions using the latest in exploration technology, and he is a pioneer in the early use of deep-diving submarines.
Ballard has pioneered distance learning in the classrooms of America and around the world with the JASON Project, an award-winning educational program that reaches more than one million students and 25,000 teachers annually.
He is president of the Institute for Exploration, scientist emeritus from the Woods Hole Oceanographic Institution, and director of the newly created Center for Ocean Exploration at the University of Rhode Island's Graduate School of Oceanography.

Ballard's new ship of exploration, the E/V Nautilus that is operated by his Ocean Exploration Trust, spends four to five months at sea each year. In 2011, he beamed back his exploration around the clock on Nautilus Live.
Ballard has 21 honorary degrees and six military awards. He was also a commander in the U.S. Naval Reserve, serving in the Navy from 1967 to 1997. He received the National Geographic Society's prestigious Hubbard Medal in 1996 for "extraordinary accomplishments in coaxing secrets from the world's oceans and engaging students in the wonder of science."

In 2003 President George W. Bush presented Ballard with the National Endowment for the Humanities Medal.
His discoveries also include sunken remains of ships along ancient trade routes in the Mediterranean Sea; two ancient Phoenician ships off Israel, the oldest shipwrecks ever found in deep water; and four 1,500-year-old wooden ships, one almost perfectly preserved in the Black Sea. Ballard's ongoing Black Sea project seeks evidence of a great flood that may have struck the region thousands of years ago.
Ballard has published numerous books, scientific papers, and a dozen articles in National Geographic magazine. He has also been featured in several National Geographic television programs, including the record-breaking "Secrets of the Titanic" and a more recent five-part mini-series, "Alien Deep with Bob Ballard."

His 1997 best-selling book, Lost Liners, tells the story of the great transatlantic liners through memorable wrecks he has visited. Ballard was also a special advisor on Steven Spielberg's futuristic Sea Quest, DSV television show.