Tobin Awards Presented to Three Employees
---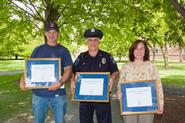 The winners of the Beverly S. and Eugene M. Tobin Employee Awards were announced at Hamilton's annual employee service recognition luncheon on May 17 at Soper Commons. Virginia Dosch, student fellowships coordinator; Joe Plado-Costante, campus safety officer; and Ron Whitford, carpenter; were honored. President Joan Hinde Stewart presented the awards following the recognition of employees who had achieved 10, 20, 30 and 40 years of service to the College.

The Tobin Employee Awards were begun in 2006 to annually recognize one representative from each of the College's three non-faculty groups of employees: administrators, staff members and maintenance and operations workers. Monetary awards are made each year from an employee-generated fund established in 2003 to honor Gene Tobin, Hamilton College's 18th president, and his wife Beverly. The fund honors the couple's 23 years of service to the Hamilton community.
President Stewart, in presenting the awards, read excerpts from each winner's nominations.

Ron Whitford, Maintenance & Operations

Our first award winner, according to his nominator, is a "tremendous asset" to his area and "consistently has the best interests of the College at heart." In addition to his excellent and knowledgeable work, he is "meticulous and detail-oriented" and always "quick to lend a hand to others."

He has worked in three different areas of the Physical Plant: after beginning his Hamilton career on the custodial crew, he then moved to the grounds crew, and is now a member of the carpenter's shop. But his ties to the College go even further: he is a proud parent of two daughters who also are Hamilton graduates.
It is always a pleasure to see him out and about on campus, but you will never see him with a jacket on. In fact, his nickname in the carpenter's shop is "Griz," which I can only presume is short for "grizzly bear." The nickname, though, is merely superficial: far from ferocious, he is one of the kindest people on our campus.

Joe Plado-Costante, Staff

Our next award winner is truly a "jack of all trades." Just when you think you might know him, think again. Fluent in three languages (French, Italian and English), he lived in three other countries (Italy, France, and Canada) before settling in Utica, NY forty years ago. He is an avid fisherman, deer and turkey hunter, and gardener (I've heard that he can grow just about anything). But wait, he also is a licensed barber and beautician!

The two consistent themes about this year's staff award recipient are generosity and dedication. One story I have heard is that he ticketed a student's car and then had it towed. The student, however, didn't have any money to pay the tow bill. So, our recipient paid the bill for him. Another student, who nominated him for this award, relayed a story about how helpful the recipient was when his car battery died, and concluded by stating that his actions prove that "campus safety is indeed there to help students." In fact, he spends countless hours on his own time helping students – whether fixing a car, or a haircut.

It is a pleasure to recognize a man who does it all, with good cheer and resourcefulness.

Ginny Dosch, Administrator

"Shoot for the stars when [you] find something about which [you] are passionate," this employee told one of her nominators. She routinely demonstrates to our best and brightest students the value of "a personal growth experience" while "fighting to make ambitions a reality." Another nominator declares that she "has touched the lives of hundreds of students in life changing ways." She is described by others as a "comforting shoulder" and "mission control" dealing with issues ranging from "shipping kayaks across borders" to "medical crises and last minute itinerary changes."

Quietly "working behind the scenes," she "has built an extraordinary record of accomplishment." The accolades continue: "a gem," "an icon," "an indispensable asset," and "an indefatigable source of cheer and organization." But it is her commitment to our students that comes through loud and clear. One student nominator wrote: "she put it best when she told me that national scholarship and fellowship competitions are really not about winning; they are about articulating your vision for who you want to become." Or, as another nominator wrote, "she helps students realize the College's motto: Know Thyself."

One hundred and thirty donors contributed to the endowed Tobin fund that has grown to more than $100,000, enough to allow for annual awards of at least $500. Contributors include Hamilton employees and friends of the College.

Award criteria include making significant improvements in College services; showing innovation, imagination or creativity on the job; taking significant interest in and participating in College activities; demonstrating job performance that consistently exceeds expectations; and exemplifying integrity and dedication to the College mission and goals. The College's Cabinet selects the award recipients.

Gene Tobin came to College Hill in 1980 as an assistant professor of history. In 1983, he was promoted to associate professor, followed in 1988 by his promotion to full professor. During his tenure as a faculty member, he served as chair of the history department (1986-88) and director of the American studies program (1983-88). From 1988 to 1993, he was dean of the faculty, serving as acting president for five months prior to being named Hamilton's 18th president in December 1993.