Tomalonis '14 Named 41st GOLD Scholar
---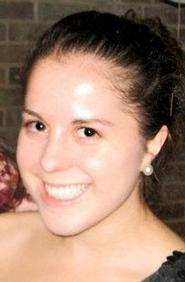 Name: Katharine Tomalonis
Hometown: Chatham, N.J.
High School: Chatham High School
Major: Neuroscience
Minor: History (intended)
Campus activities: WHCL radio station, Phonathon caller
FAVORITES
Last Movie Seen in Theaters: Midnight in Paris
Movie: About a Boy
Song: "Forever Young" by Bob Dylan
Place You've Lived on Campus: North, Bundy
Last Book Read: The Girl with the Dragon Tattoo by Stieg Larsson
Book: The Great Gatsby by F. Scott Fitzgerald
Hobbies/Interests: Classic rock/folk music, piano, reading opinion pieces, nature
Place on Campus: The Glen
Campus Dining Location: McEwen for lunch (I'm always first in line for the stir fry!)
Fondest Hamilton Memory: Tie between climbing our first peak on Adirondack Adventure and arriving on campus sophomore year to reunite with the community
Quote: "Stop wearing your wishbone where your backbone ought to be" from Eat, Pray, Love by Elizabeth Gilbert
Where did you grow up?
I grew up in Chatham, N.J., a small town about an hour from New York City. Chatham has a very active community, and visitors always describe it as "cute" or "charming." The three public schools I attended (elementary, middle and high schools) were all within walking distance and gave me a great education. Growing up, I knew all my neighbors and could safely play games in the street or walk downtown. Most of my peers were involved with athletic teams or church ministries from a young age until high school. However, Chatham has the stigma of being a "bubble" in the sense that the citizens are not very diverse and shelter their children. Despite this criticism, I feel fortunate to have grown up in a town that provided countless opportunities, a safe childhood and an excellent education.
Describe your family?
My parents are undoubtedly the most supportive figures in my life. They have taught me countless lessons, both implicit and explicit, that helped me mature and develop goals. As I have gotten older and am now making important decisions more so on my own, my relationship with them has undoubtedly changed, but I feel closer to them than ever. I always joke with mom that we both know we drive each other crazy, but the reason we have a successful relationship is because we accept our incompatibilities and focus on how we can help and appreciate each other. My father travels a lot for his job so it is difficult to keep in touch as we are both extremely busy, but we regularly e-mail each other music links and newspaper articles to keep contact with each other. Overall, I would say the relationship with both of my parents has evolved into a conscious friendship. I have one brother who is two-and-a-half years younger than me and a cancer survivor. I have tremendous respect for the way in which he handled and reflects on his illness. Also, he tends to be the one who grounds me during dramatic episodes — what brother doesn't love to make a spectacle out of his sister's overreactions?
How did you discover Hamilton?
Hamilton was the first school that I discovered on my own. My mother was extremely involved in my college selection process (whose isn't?!), which motivated me to start researching colleges that I was interested in. Many of the schools that I had visited with my mother had listed Hamilton, among other schools, as a comparable institution. I finally researched Hamilton to find a description of the school that emphasized an initiative to teach effective writing skills, incredible professors and a supportive student body. Around this time in my junior year, I also went through a biography-reading phase; Chernow's Alexander Hamilton instilled within me a deep admiration for the College's namesake. Needless to say, a trip to Hamilton became top priority.
What were your first impressions of the College? Do you find they're still true today?
I honestly still remember the first time I visited the Hill. My dad and I were scheduled to take a tour on a Saturday morning but decided to drive on campus when we arrived the night before. It was February, so a light snow covered the ground and the lights on the Chapel illuminated the sky. In retrospect, this memory does not seem so fantastic. However, I still reminisce about the feeling of instinctively knowing in that moment that I needed to attend Hamilton. The next morning, our tour guide was so enthusiastic about Hamilton and multiple students offered to help us navigate around campus or just said a quick "hello"; I could not have felt more comfortable on a college campus. Although I have had many more experiences now on the Hill as a student rather than as a prospective student, I still feel extremely comfortable with the community and know I made the best decision.
What are your plans after Hamilton?
Recently I have become interested in pursuing a career in policy research, but I am still discovering opportunities to pursue within policy research. Ideally I would like to analyze the ways in which citizens react to policy measures and how understanding the sociology, history and behavior of a community affects the implementation and/or success of government measures. Whether this leads to advanced degrees or a completely different career than the one I intended, I am looking forward to seeing where my interests take me. I definitely want to stay in the Northeast so I can remain close to my immediate and extended family.
What advice or perspective would you share with alumni?
I really encourage alumni to remain connected with the Hamilton community. As a caller for the Annual Fund, I have had the most rewarding conversations with alumni about their perspectives on careers and education. All alumni experiences provide valuable insights for current students. Hamilton's strong community attracted me to the school, and I hope this quality persists.