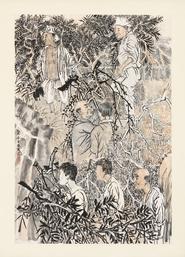 Artist Yun-Fei Ji will lead a tour through his solo exhibition, "The Intimate Universe," in the Ruth and Elmer Wellin Museum of Art on Wednesday, March 30, at 4:15 p.m. The exhibition and tour are free and open to the public.
Beijing-born Ji doesn't focus on the idealism characteristic of traditional scroll painting, but rather the gritty reality of contemporary life in China, including the forced relocation of villages and climate change's effects on the natural environment. The show features a selection of paintings, drawings and scrolls - one that measures 70 feet in length – created in the last decade.
The exhibition, which opened on Feb. 6 and closes on July 2, includes an intimate scroll room, entered via a moongate that has been constructed for viewing several of the larger scrolls. The gallery environment has been designed to subtly evoke the forms and creative landscape of a traditional Chinese garden. Curated by Adler, the show will travel to the Honolulu Museum of Art from Sept. 29 to Feb. 5, 2017.
Yun-Fei Ji received a BFA from Beijing's Central Academy of Fine Arts in 1982 and an MFA from the University of Arkansas at Fayetteville in 1989. His work has been shown most recently at the Grand Rapids Art Museum in Michigan; the University Museum of Contemporary Art in Amherst, Mass.; and the Vancouver Art Gallery, Canada. He received the Rome Prize in 2006 from the American Academy in Rome, Italy.
During his visit to Hamilton, Yun-Fei Ji will also meet with students in several classes including art, art history, philosophy and geosciences.
About the Ruth and Elmer Wellin Museum of Art
Wellin Museum of Art hours are Tuesday through Sunday, 11 a.m. - 5 p.m. The museum is located on the Hamilton College campus on College Hill Road at Griffin Road. Parking and admission are free of charge. For further information, please contact the Wellin Museum of Art at 315-859-4396 or visit the website at www.hamilton.edu/wellin
Since its opening in October 2012, the Ruth and Elmer Wellin Museum of Art has brought 13 exhibitions, 9 publications and 70 public programs to well over 30,000 visitors. More than 2,000 public school students from nine area school districts have visited the museum since it opened.