Trivedi Assumes Presidency of SAHSA
---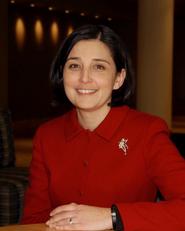 Lisa Trivedi, associate professor of history, assumed her tenure as the president of Society for Advancing the History of South Asia (SAHSA) at the annual meeting of the American Historical Association in Boston, Jan. 6-9. Trivedi leads SAHSA in a period of growth and as it seeks a new role and position within the American Historical Association, the nation's premier professional association of historians.
Trivedi will oversee SAHSA as it becomes an affiliated society of the AHA, which brings with it a new voice for the field at the annual meeting and potentially on association bodies. With this new position, Trivedi plans to promote collaboration among historians across fields who work either on similar theoretical problems or methodological approaches. She also intends to create a structure and policies that will help the organization grow in a sustainable manner.
As stated on the organization's website, the American Historical Association was "…founded in 1884 and incorporated by Congress in 1889 to serve the broad field of history. It encompasses every historical period and geographical area and serves professional historians in all areas of employment. As the umbrella organization for the profession, the AHA plays an important public role as a leader and public advocate for the field.
Within the profession, the Association defines ethical and professional standards, and offers advice on good practices in the field. Externally, the Association works broadly in behalf of historical studies, the collection and preservation of historical documents and artifacts, and the dissemination of historical research." Among the most important activities of the association are its flagship publication the American Historical Review, its journal Perspectives on History and its organization of an annual conference.