Trust Treaters Welcome Children on Halloween Night
---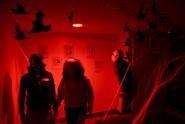 A college student dressed as Ms. Frizzle – the red-haired and eccentric science teacher from The Magic School Bus – relaxes on a couch as she scans the room that was once just an ordinary common space for dorm residents. Now it's been transformed into a haunted house, with the help of some jack-o-lanterns, cobwebs, fake spiders, pumpkins and plastic rats scattered across the floor.
The student, Kerry Coughlin '11, has dedicated her evening to the 21st annual Trust Treat, a celebration on Halloween night that brings more than 200 children from the Utica area to Hamilton College for a safe and fun evening of trick-or-treating. Trust Treat was established by the Class of '92 in memory of Eric Trust, a member of the class who died unexpectedly on Halloween day during his first year at Hamilton. The event is organized each year by Father John Croghan and Hamilton's Newman Council.
Coughlin said she decided to participate in order to make up for lost time. "I've never had trick 'o' treaters because I lived in a house that was not trick 'o' treater friendly," she said. "Now I finally get to do that!"

She lives in the Woollcott Co-operative (the Co-Op), where students are on a limited meal plan and must pledge to aid in cooking meals on a regular basis. The Co-Op's front foyer was festively adorned for Halloween; a table was set up with three bowls, and visitors to the Co-Op's Trust Treat stop were encouraged to guess which bowl had candy in it, while the other bowls contained pumpkin guts and rice noodles. David Hyman '12 trudged around the haunted house greeting children with a pumpkin on his head.
He and his dorm-mates Katrina Rabeler '12, James Bestlity '11, Erin West '11 and Elizabeth Costello '13 welcomed the children from Utica and asked them questions, making their stop into an interactive experience.

Other Trust Treat stop coordinators just wanted to hand out candy – but with some flair. HAVOC (Hamilton Association for Volunteering, Outreach and Charity) members Kelsey Craw '12, Betsy Bilharz '12, and Laurel Emurian '11 created a "mad scientist laboratory" just inside the entrance to the Chapel.
We decided that HAVOC would have a site because we wanted to help out the Newman Council," said Craw, HAVOC's student director, who was dressed as Blue from the children's television show Blue's Clues. "It also brings to campus a lot of the same kids we work with in other aspects through some of our [volunteer] sites."

The mad scientist laboratory consisted of a table littered with sickening substances - the three students molded marshmallow into the shape of a brain and dipped "fingers" (i.e. baby carrots) in cooked Jello. "We didn't want to do something too scary but we wanted it to be eye-catching," said Bilharz.

In North Residence Hall, the hallway lights were covered with black paper to darken the area and students listened to spooky symphonies as they waited for children to arrive. Brenna Corrigan '14, dressed as a bloody farmer, was enthusiastic about the program. "We love the kids and getting in the spirit of Halloween," she said.

Some stops had more space than just a hallway. MacIntosh's first floor common room was turned into a haunted house, and students lurked behind black sheets ready to pop out at any unsuspecting stranger. One student lay on an "operating" table for the duration of the evening as a frightening mummy. In Root Residence Hall, students used the third floor as a candy stop and the fourth floor as a haunted house, replete with roaming vampires, witches, and pirates. Third floor Resident Advisor Rebecca Knipp '13 helped organize Root's Trust Treat stop.

"I wanted Root to get involved because I feel like the dynamics of the community here would be really good for a community service event concerning children and Halloween," she said. "I felt like we'd be able to come together and make it fun for them."

But she acknowledges that it wasn't just for the childen.

"I think we had a lot of fun, too!" she said.