Trustee Gift Will Add Student Housing Options
---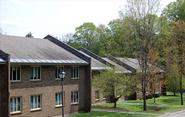 With Hamilton's already high rate of student retention increasing still further, part of a trustee's new $1 million donation is being used to increase the college's housing capacity.

Hamilton plans to use approximately two-thirds of the gift from 1971 graduate and Vice Chairman of the Board of Trustees Jeff Little to convert four first-floor lounges in the Bundy East and West Residence Halls into apartment-style residences for a total of 16 students. Each apartment will house four students in two bedrooms and include a bathroom, a small kitchen and a living area.

"Jeff Little exemplifies the generosity and the responsiveness of the Hamilton Board of Trustees," said Acting President and Dean of Faculty Joseph R. Urgo. "The college identified a potential housing problem for the fall, and Jeff responded immediately to address the predicament."

"I received an excellent education from Hamilton 40 years ago," Little said, "and I want to do what I can to ensure that today's students have a similar experience. I believe that a student's residential experience on campus is an important part of their education."

The renovation project will begin immediately and should be completed when the fall semester begins on August 27.

The two buildings in the Bundy complex (Bundy East and Bundy West) are located halfway up College Hill Road. They are similar in structure and have singles and doubles with cable television and high-speed Internet. Both buildings have basement-level lounges and laundry facilities. The rooms in these buildings are offered to sophomores, juniors and seniors, can accommodate 80 students and are coed by room. Bundy East and West Residences were built in 1970.

Urgo said that typically about 91 to 93 percent of first-year students return to Hamilton for their sophomore year. That figure jumped to 96 percent a year ago and is expected to remain near or at that level again when classes resume in the fall. The number of students who have declared academic leaves of absence for the fall is also down, contributing to the higher enrollment expected this fall.

"This is a good problem to have," said Urgo. "It speaks to the high level of satisfaction students have for Hamilton."

This story appeared in the July issue of eNews.