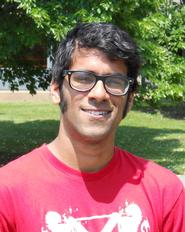 Recent turmoil and political upheaval in the Middle East have dominated the global news lately, with documentations of unrest in more than a dozen already unsteady nations. Ryan Karerat '12, an Emerson grant recipient, is spending the summer with Henry Platt Bristol Professor of International Affairs Alan Cafruny researching the current state of U.S. foreign affairs in the Middle East.
"Arab Spring" has been the term used by journalists to describe the recent influx of uprisings and rebellions in Arab states in the Middle East and North Africa ever since December 2010. At that time 26-year-old Mohamed Bouazizi, a fruit vendor in Tunisia, made national news after setting himself on fire in protest of the Tunisian government's treatment of him.
Bouazizi's message sparked public outrage that eventually resulted in not only the resignation of President Ben Ali, but perhaps more importantly a series of similar dissident uprisings in Arab nations all over the Middle East and North Africa—to date there has been a revolution in Egypt, a civil war in Libya, and violent uprisings and protests in Bahrain, Syria, Yemen, Kuwait, Lebanon, Oman and Saudi Arabia, among others.
As these events are currently unfolding, Karerat is interested in how the Arab Spring will affect the future of U.S. foreign policy in the Middle East, which is tenuous even at its best. He is taking the time to research specifically two case studies: political unrest and restructuring in Egypt and the Saudi Arabian monarchy's reactions to turmoil in neighboring states.
The biggest problem with the United States' current relationship with Egypt is that Egypt's recently ousted president, Hosni Mubarak, was a close American ally. The U.S. has relied on Egyptian cooperation in regard to Israeli policy, and was forced to make the difficult diplomatic decision to support the transitional government as a replacement for Mubarak in the wake of public protests. Now, Egypt is under the charge of the military and is awaiting, anxiously, a new presidential election in November.
Still a staggering amount remains uncertain in Egypt's future, and a lot rides on the result of the upcoming election; the biggest competitors are the National Democratic Party (the same party as ousted President Mubarak) and the Muslim Brotherhood, which would likely seek to turn Egypt into a Muslim State. That would spell another series of double-edged tensions for the U.S., which supports liberal democratization in the Middle East but worries that the new Islamic state would not be respectful of its next-door neighbor, Israel.
Saudi Arabia, another American ally, has its own set of interests in Egyptian political affairs that simultaneously clash and overlap with American interests. The Saudi Arabian monarchy has been watching events play out in the Middle East with increasing discomfort, as it worries that the violent political dissent in Bahrain and Yemen might catalyze the demise of its own regime. It is also similarly worried about the rise of the Muslim Brotherhood in Egypt, because a democratically-elected Islamic ruling body could seriously undermine the legitimacy of an Islamic monarchy. It has recently been trying to appease its citizens with heavy domestic spending but, again, nobody quite knows what the future may hold.
A lot of Karerat's research is speculative—hypothesizing on a variety of U.S. foreign policy reactions in certain situations—and he says it has been an exciting experience to conduct his research concurrently as the circumstances in the Middle East thicken. Karerat, whose father lives in Saudi Arabia, is a world politics major with a focus in international security, and has spent a lot of time at Hamilton trodding through the quagmire of U.S. foreign policy in the Middle East, including a semester with Assistant Professor of Government Charlotte Lee in her Authoritarian Regimes class.
On campus, Karerat is a DJ with WHCL and is an avid member of the Trivia Night circuit. He served on the executive board of Red Weather in the fall, and is a former summer tour guide. He spent the spring participating in Hamilton's semester in Washington, D.C. program.
Karerat is a graduate of St. Andrews School in Delaware.