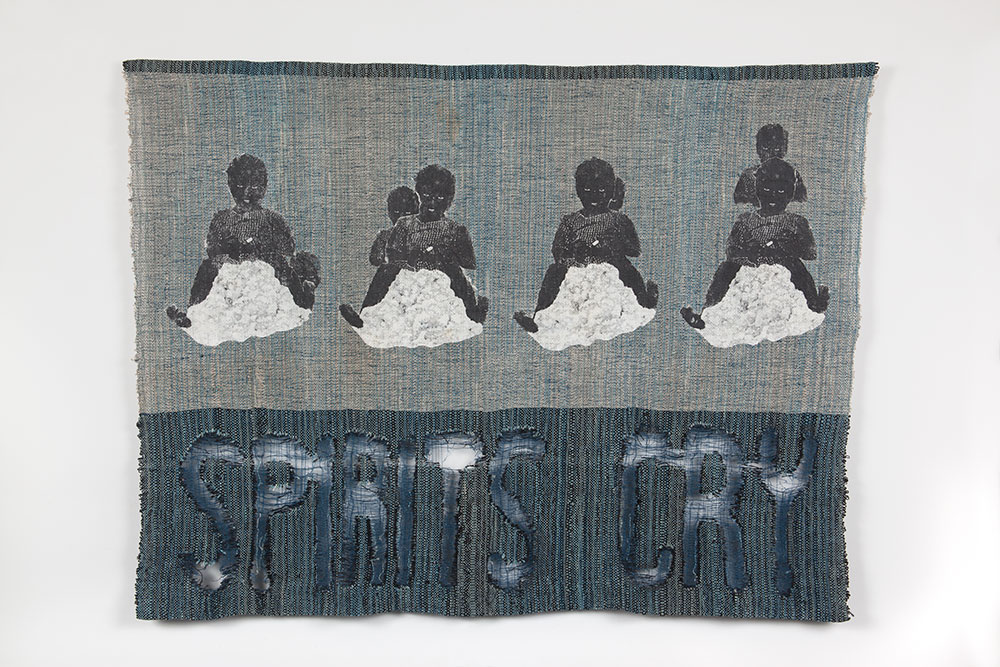 Two exhibitions saturated with historical and cultural references, Karen Hampton: The Journey North and Tales of the Conjure Woman: Lady Fatima as Transmitted through Renée Stout, will open at Hamilton's Wellin Museum of Art on Saturday, Oct. 3, with a reception from 4 to 6 p.m. The reception and exhibitions are free and open to the public and will be on view through Dec. 20.
Karen Hampton: The Journey North
Karen Hampton: The Journey North features new and recent textile works that tie together stories of Hampton's multicultural heritage, from her family's colonial past to her present experiences as a person of African, Caribbean, and American descent. A self-described "griot" (the keeper and transmitter of the genealogies of a people), the Los Angeles-based textile artist employs historical memory drawn from the stories of her family to shed new light on the colonial past. Her work uses new and traditional techniques and materials and explores the essence of her being through cloth as her medium of choice. Touching on issues of displacement and transience, Hampton uses both needle and loom to create her works.
The Journey North features work that examines the mythology of freedom through multiple narratives from the lives of the artist's ancestors, which trace their migrations north from the Caribbean, Florida and a Maryland plantation. Through installations of woven, stitched and digitally printed imagery, Hampton narrates the internal struggles that accompanied her ancestors' diaspora and points to a broader struggle with identity felt in American today.
"For Hampton, the journey north is a symbolic one towards freedom," notes Wellin Museum Director Tracy L. Adler, "but the accessibility and beauty of her work is what really draws you into the narrative. It makes you want to learn more."
The exhibition is co-curated by Associate Professor of Art History at Hamilton College Stephen J. Goldberg and Wellin Museum of Art Associate Director and Senior Curator of Collections Susanna White.
The exhibition also includes a video oral history component through which the artist opens up the stories embedded within her artworks and visitors are given a glimpse into her studio and working process. Also on view is a tribute to pivotal figures who influenced the course of history, intersecting with the tale of Hampton's genealogy. Such luminaries as Gerrit Smith, Harriet Tubman, and Frederick Douglass are enshrined by Hampton's characteristic treatment of transferring images onto cloth, which is embellished with hand stitches. Inspired by a group of abolitionist portraits hung in the Smithsonian's National Portrait Gallery in Washington, D.C., Hampton re-envisions this installation in dialogue with her lineage to further celebrate the strides of past generations in forging the path towards Hampton's own personal freedom.

About Karen Hampton
Karen Hampton's work has been the subject of numerous solo exhibitions in major art venues throughout California: the Museum of Craft and Folk Art, San Francisco; College of Marin, Kentfield; Art Foundry Gallery, Sacramento; and the Design Gallery at University of California, Davis. Her work has also been featured in recent group exhibitions including Innovators and Legends: Generations in Textiles and Fiber, which originated at the Muskegon Museum of Art, Michigan, and traveled to the Figge Art Museum, Iowa and the University Art Museum of Colorado State (2012-2014). The artist received an M.F.A. from the University of California, Davis, and a B.A. from New College of California, San Francisco.
Tales of the Conjure Woman: Lady Fatima as Transmitted through Renée Stout
Tales of the Conjure Woman: Lady Fatima as Transmitted through Renée Stout features recent work by Washington, D.C.-based artist Renee Stout, who is best known for her exploration of vestigial retentions of African cultural traditions in contemporary America. Through painting, sculpture, printmaking, and photography, Stout creates works that bring together African-derived folk beliefs with constructed personal and conceptual narratives. This exhibition is an artistic interpretation of Hoodoo and Voodoo traditions that incorporates theatrical and carnivalesque elements to unmask these mysterious traditions.
By channeling her alter ego Fatima Mayfield, a fictitious herbalist and fortune-teller, Stout provides a window into the invisible spiritual forces at work in contemporary life. She looks to these spiritual traditions as a jumping-off point for developing her own distinct visual language, resulting in a complex body of work that is meticulously constructed and rife with symbolism.
The exhibition is a collaborative project between the Halsey Institute of Contemporary Art at the College of Charleston, Spelman College Museum of Fine Arts in Atlanta and the Wellin Museum. The exhibition has been curated by Mark Sloan, Director, Halsey Institute of Contemporary Art.
About Renée Stout
Renée Stout's work has been featured in solo shows at Hemphill Fine Arts in Washington, D.C.; The Ogden Museum of Southern Art (New Orleans, LA); David Beitzel Gallery (New York, NY); and the Pittsburgh Center for the Arts (Pittsburgh, PA). Stout received her BFA from Carnegie Mellon University in 1980, and was awarded in 2014 an Alumni Achievement Award. She lives and works in Washington, D.C.
Wellin Museum of Art Visitor Information
Wellin Museum of Art hours are Tuesday through Sunday, 11 a.m. - 5 p.m. The museum is located on the Hamilton College campus on College Hill Road at Griffin Road. Parking and admission are free of charge. For further information, please contact the Wellin Museum of Art at 315-859-4396 or visit the website at www.hamilton.edu/wellin