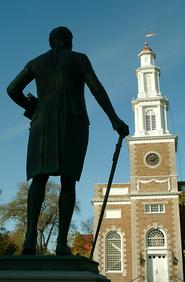 In recognition of Hamilton's 200th anniversary, U.S. Rep. Richard L. Hanna (R-NY) sponsored a statement in the Congressional Record this week. The New York Board of Regents granted Hamilton's Charter on May 26, 1812.
"Hamilton is grateful for Representative Hanna's recognition of our bicentennial in the U.S. House of Representatives," said President Joan Hinde Stewart. "His thoughtfulness adds to what has been a glorious year-long celebration."
U.S. Rep. Hanna's statement made on Tuesday, May 15, 2012:
"Mr. Speaker, I rise today to honor Hamilton College on the occasion of its bicentennial. Hamilton is one of this nation's finest liberal arts colleges. It is known for its rigorous academic program to prepare students for lives of meaning and purpose. The College is renowned for teaching students to express their ideas with clarity and precision, to think creatively and analytically, and to act ethically and with conviction.
Hamilton College was originally founded in 1793 as the Hamilton-Oneida Academy by the Reverend Samuel Kirkland, missionary to the Oneida Indians. Rev. Kirkland's vision was to educate the children of the Oneidas alongside the children of the white settlers streaming into Central New York following the American Revolution. He presented his plan of education in 1793 to President George Washington who ''expressed approbation'' and to Secretary of the Treasury Alexander Hamilton who lent his name to the institution and consented to become a trustee. Oneida Chief Skenandoa and Baron von Steuben, inspector general of the Continental Army and ''drillmaster'' of Washington's troops during the War for Independence, were present when the cornerstone for the new Academy was laid on July 1, 1794.
The Hamilton-Oneida Academy lasted 19 years before it was rechartered by the Regents of the University of the State of New York as Hamilton College on May 26, 1812. The institution is believed to be the 31st oldest college in the United States.
Over the years, Hamilton has never wavered from its mission to teach the liberal arts and sciences. In 1968, all-male Hamilton College established the all-female Kirkland College, which lasted 10 years until the two colleges combined in 1978.
Today, Hamilton enrolls 1,812 students from 49 States and 37 countries. Its student-to-faculty ratio of 9-to-1 ensures significant individual attention for its students, many of whom compete successfully for Fulbright Awards, Goldwater Scholarships and other prestigious national fellowships and scholarships funded by this body.
Included among its graduates are public servants at every level, including most notably former Vice President of the United States James ''Schoolcraft'' Sherman; former Secretary of State, Secretary of War, U.S. Senator and recipient of the 1912 Nobel Peace Prize Elihu Root; current Secretary of Agriculture Tom Vilsack; and former U.S. Ambassadors Arnold Raphel, William Luers, Sol Linowitz, Michael Klosson and Edward Walker. The College also counts among its alumni prominent business leaders, scientists, artists, educators, physicians, ministers, lawyers, entrepreneurs, entertainers, writers, and journalists.
Mr. Speaker, I ask that you and my distinguished colleagues join me in recognizing and congratulating the students, faculty, staff, alumni and trustees of Hamilton College on the occasion of their institution's two hundredth anniversary on May 26, 2012."