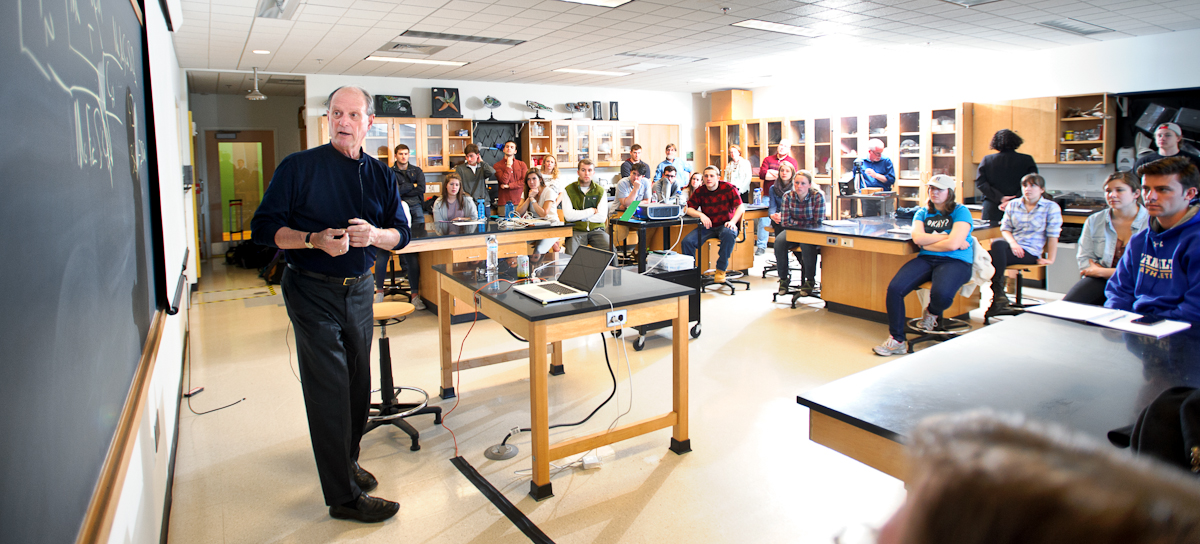 Oceanographer Robert Ballard detailed many of the revolutionary discoveries that have filled his 57-year-long career in a Chapel lecture titled "Ocean Exploration: Past, Present, and Future" on March 30. Prior to the lecture he met with Hamilton Marine Biology and Geomicrobiology classes and science faculty.
Ballard's passion for the ocean began at a young age. He recalled his first voyage at age 17 with the Scripps Institute of Oceanography that almost ended in disaster when a 100-foot tall rogue wave, an extremely rare event, caused his ship to become fully submerged in the Pacific Ocean. It was then Ballard realized "I love adventure with a purpose."
This passion carried him through a 30-year career with the United States Navy when he conducted research on the ocean floor in a small nuclear submarine, the NR-1. For 15 years, Ballard explored the largest mountain range on Earth, the Mid Ocean Ridge, in a vehicle just six feet in diameter called Alvin.
It was on these voyages that Ballard began to answer some of the big scientific questions of the 1970s. These included understanding the salt composition of the ocean and supporting the theory of plate tectonics. The answer to many of these inquiries came with the discovery of hydrothermal vents on the East Pacific Rise. Surrounding these vents were massive communities of extremophiles, organisms that presented characteristics never before observed and that were able to withstand oxygen free and toxic environments.
Referring to this unprecedented discovery, Ballard recalled that "In a world of eternal darkness, we came across pervasive life forms with eight times the biomass of the euphotic zone above it."
After this research, the oceanographer turned to harnessing the latest in technological advancements. With early robots, Argo and Jason Junior, Ballard discovered the exceptionally well preserved R.M.S. Titanic. "I realized the deep sea is a state of suspended animation," he remarked on the surprising condition of this find.
Ballard applied this understanding of the slow-paced ocean floor to begin tracing the many shipwrecks of antiquity in the Mediterranean and Black Sea by following trails of empty wine bottles that traders tossed overboard on their journeys.
Ballard's newest project, Nautilus Live, has a global focus. Now working with a worldwide team of on-call specialists as well as some of the most impressive display and networking capabilities available, he and his researchers have created a platform for constant discovery. Ballard describes the program as a hospital emergency room, always prepared for any new development.
Another new project for Ballard is the development of a highly interactive educational platform, the JASON project. Geared toward young students, it has a special emphasis on promoting diversity in all facets of the program. Ballard remarked that "The battle for a scientist or engineer is won or lost in middle school. Students have to see themselves as the goalie if they are to enter the field."
Ballard's career continues to keep pace with the research on the cutting edge of oceanography. His next mission begins in May and will be an exploration of the tectonic plate near Vancouver Island that has the capability of causing a tsunami like that Japan experienced in 2011.