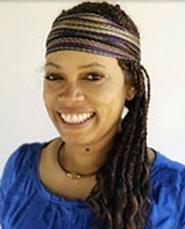 France Winddance Twine, anthropologist and professor of sociology, will present a lecture "The Sexual Lives of Soldiers: the Circularity of Violence in a Masculine Institution" on Monday, Nov. 10, at 4:10 p.m., in the Red Pit, Kirner-Johnson Building. The lecture, which is free and open to the public, will examine the emotional and sexual health of active duty military personnel through a series of memoirs by female veterans. It is sponsored by the Africana Studies Department.
Twine, an author, feminist race theorist and documentary filmmaker, focuses her research on the intersections of racial, gender and class inequalities. Her lecture will deconstruct the meaning of "sexual agency" and the occupational hazards of females in the U.S. military. With rapidly growing enlistment of young Black and Latina women in the armed forces, Twine shows the intersection of sexism and racism in the traditionally masculine institution while examining policies that prevent sexual agency among women.
Twine earned her Ph.D. in anthropology at the University of California, Berkeley and was a research fellow at the Center for Advanced Study in the Behavioral Sciences at Stanford University. She served as a distinguished visiting professor in the Sociology Department at the London School of Economics and held tenured professorships at Duke University and the University of Washington in Seattle. She also serves on several journal editorial boards, including Sociology, and Identities: Global Studies in Culture and Power and is the former deputy editor of American Sociological Review. She is currently a professor of sociology and black studies at the University of California, Santa Barbara.
As an author, Twine has published 10 books and dozens of journal articles throughout her career. Some of her major works include her 1997 book, Racism in a Racial Democracy: The Maintenance of White Privilege in Brazil and her 2010 work, A White Side of Black Britain: Interracial Intimacy and Racial Literacy. Twine also created the 1990 documentary film, Just Black?: Multiracial Identity in the U.S. More recently in 2012, Twine published Girls with Guns: Firearms, Feminism, and Militarism, which will be the focus of her upcoming lecture.