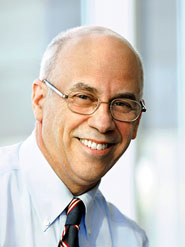 On the heels of Hamilton's hosting of the second annual International Wellbeing and Public Policy Conference earlier this June, it seems appropriate that a USA Today article, in which a Hamilton professor is quoted, should focus on the topic as it relates to college campuses generally.
In the article titled "Colleges tout well-being, not just job prospects" published on June 22, Dan Chambliss, co-author of How College Works, was quoted on the topic. Chambliss, the Eugene M. Tobin Distinguished Professor of Sociology , said, "The simple fact of using a student's first name seems to matter."
The article referenced the 10-year, Mellon Foundation-funded, longitudinal study of students on which his book is based. Christopher Takacs '05, his former student and current doctoral student at the University of Chicago, is his co-author.
Professor of Economics Stephen Wu was the facilitator for the Wellbeing and Public Policy Conference. He is also the co-editor of the International Journal of Wellbeing.