Utica Transforms Gritty to Green
---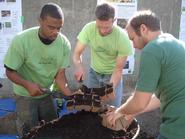 Located only 10 miles from Hamilton's campus, Utica often seems a world away. The city is riddled with concerns of unemployment, environmentalism and historical preservation. Kevin Alexander '13 is the first Levitt Center-funded Rust to Green Civic Research Fellow and is dividing his time between an internship with the Rust to Green initiative and a research project with Visiting Assistant Professor of Sociology George Hobor.

Although his fellowship encompasses many different elements, Alexander's primary concern is improving the city he calls home. Combining the best of both worlds, he and an Americorps Vista worker conduct research comparing more than 40 categories (such as a person's household income, housing and race) of census data from 1980 to that collected in 2000. The other half of his fellowship entails his participation in the Rust to Green Initiative, a federally-funded project run in Utica by three professors and six students from Cornell University.

Alexander has spent many hours cataloging all of the pertinent information of more than 200 non-profit organizations in Utica in order to have a more functional and cohesive database of the organizations that serve such important functions to the Utica community. In studying the historical changes in Utica, he is identifying the resources the city has had in the past and their status today. The presence and function of non-profit organizations demonstrates the potential resources the city has, so cataloging them is essential in understanding Utica's current socioeconomic status.

Supplemented by Alexander's database, Professor Hobor's team is looking at demographic changes in the city of Utica between 1980 and 2000. While the population of Utica was around 100,000 people for most of the mid-20th century, it had dipped to about 60,000 by 2000. With a shrinking population comes a smaller number of young professionals age 25 to 39, who are a necessary asset for local economic development in the new service-based economy. The team is developing a survey to distribute among the young professionals that do call Utica home. Why are you here, they want to know, or what brought you back? The team is interested in how Utica maintains this asset, and "what the young professionals have done to make Utica an acceptable place to live when they have other options," as Hobor explained.

Alexander's fellowship is unique in that he is able to begin to apply solutions he determined in his research through Rust to Green. "The mission statement of the initiative is to help revive and revitalize Utica and finding different ways to do it," Alexander noted. "Revitalization is not explicitly in the environmental sense, but a lot of it is taking shape through environmentalism."

Instead of tearing down old buildings as other urban renewal projects have done, Rust to Green is working to preserve Utica's oft-ignored history by making historical buildings more environmentally sustainable. The Hage Building on Genesee Street, home to the law offices of J.K. Hage '72, for example, is now self-sustainable, powering itself with solar panels and reusing its own water. "Environmentalism will help revitalize the city, but it's not the defining factor. We're trying to figure out just what that defining factor is," Alexander said.

But Rust to Green is serving another role: as a medium for communication between some of Utica's biggest players. Every other Tuesday, the representatives from Cornell reunite local government officials, lawyers, and representatives from local non-profits to talk about current issues and suggest solutions for one another. But problems seem to lurk at every turn: years of poor practices have caused citizens to lose trust in the local government, a cynicism that current officials are trying to change. Non-profits provide services that the government lacks, so they are pertinent to helping the city change. Alexander has been studying the connections and relationships between these organizations and how their ties networking affects their capacity to help the community.

No function, however, is as important as talking directly to the people of Utica, and they are pleased with the work Rust to Green is doing. "Utica has a lot more potential now than it did in 2000," Alexander observed. "People have been looking for different ways to try to do things and are really starting to realize the value that Utica has in its historical buildings, history and diversity."

Alexander is a graduate of Proctor High School in Utica.