Van Wynsberghe and Snyder Receive Research Corporation Grants
---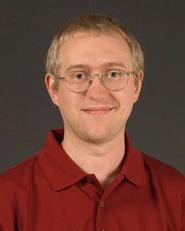 Assistant Professors of Chemistry Nicole L. Snyder and Adam Van Wynsberghe have each received a Cottrell College Science Award from the Research Corporation for Science Advancement. These grants each supply $35,000 for the investigators' research programs and include funds for equipment, supplies, and faculty and student stipends. Fifty-seven of these awards were funded nationally in 2010.

Van Wynsberghe's proposal, "Accurate Evaluation of Association Rate Constants of Influenza Neuraminidase Inhibitors," focuses on the development of a novel computational method to calculate the rate at which small molecules bind to their protein targets. Information gathered from these investigations will help scientists better understand the mechanisms by which proteins bind to their substrates and inhibitors.

Van Wynsberghe's research group is currently applying these and related methods to the binding of drugs to the major druggable target of influenza, the protein neuraminidase. The insight provided by these studies has the potential to improve design strategies for influenza inhibitors. Hamilton students who have contributed to this project include Carlos Rico '10 (senior thesis) and current summer researchers Erica Losito '12 and Jeremy Adelman '13.

Snyder's proposal, "The Synthesis and Evaluation of Carbohydrate-Porphyrin Conjugates as Asymmetric Catalysts," focuses on the development of a palladium-catalyzed cross-coupling approach to access porphyrins decorated with different carbohydrate residues such as glucose. These molecules have the potential to serve as catalysts for the asymmetric cyclopropanation of olefins (compounds containing carbon-carbon double bonds) to produce chiral cyclopropane rings.

Chiral cyclopropane rings are important functional components of biologically active natural products such as the antifungal agent ambruticin. Students working in Snyder's group, including Taylor Adams '11, Peter Garrett '11, Kevin Graepel '11, Christopher Boisvert '12, and Shawon Akanda '12, have already shown proof of concept for this approach by preparing mono-, di- and tetrasubstituted carbohydrate porphyrin conjugates using several derivatives of glucose.

Future work in Snyder's laboratory will involve expanding the types of carbohydrates used to prepare carbohydrate porphyrin conjugates and evaluating the ability of these molecules to catalyze the formation of asymmetric cyclopropane rings.