Van Wynsberghe Publishes in Proceedings of the National Academy of Sciences
---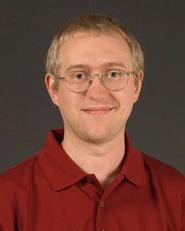 Assistant Professor of Chemistry Adam Van Wynsberghe was a contributing author of a paper published in the Oct. 25 issue of the journal Proceedings of the National Academy of Sciences of the United States of America. (PNAS)
The paper, titled "Solution X-ray scattering combined with computation modeling reveals multiple conformations of covalently-bound ubiquitin on PCNA," presents the results of research conducted in collaboration with researchers at Lawrence Berkeley National Labs, the University of Iowa College of Medicine, the University of Delaware, the Scripps Research Institute and Georgia State University.
The research team used both experimental and computational approaches to create a model of the binding of ubiquitin to proliferating cell nuclear antigen (PCNA), a protein that plays an important role in the processivity of eukaryotic DNA replication. PCNA is ubiquitinated in response to DNA damage, and the ubitquitin-PCNA complex recruits trans-lesion polymerases necessary to continue DNA replication.
The structure of this complex is unknown and Van Wynsberghe, in collaboration with Professor Ivaylo Ivanov of Georgia State University, used a multi-scale computational approach to predict atomically detailed models of the structure. The other members of the collaboration used small angle X-ray scattering to collect coarse-grained structural data of the complex into which the computational models were fit and validated. This combination of approaches allowed the researchers to discover that ubiquitin has multiple binding sites on PCNA, providing a rationalization for several previously unexplained biological observations.
According to the PNAS website: "PNAS is one of the world's most-cited multidisciplinary scientific serials. Coverage in PNAS spans the biological, physical, and social sciences. PNAS is published weekly in print, and daily online in PNAS Early Edition."
PNAS is published by the National Academy of Sciences of the United States of America, a private, non-profit society of leading scientists in a variety of disciplines that aims to further the use of science and technology for public betterment.

The Van Wynsberghe lab studies protein flexibility and dynamics using a variety of computational and theoretical techniques. The lab's general goals are to develop and utilize molecular simulation methods to investigate biological and biochemical systems from a physical and chemical perspective.