Van Wynsberghe Publishes Commentary in Structure
---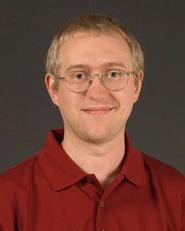 Assistant Professor of Chemistry Adam Van Wynsberghe has published an invited commentary titled "Conservation and Variation of Structural Flexibility in Protein Families" in the March issue of Structure, a leading biophysical chemistry and structural biology journal. The article gives a perspective of and general introduction to a feature article in the same issue of the journal and was written in collaboration with Professor Qiang Cui at the University of Wisconsin-Madison.

Van Wynsberghe and Cui's commentary discusses a specific feature article, "Deciphering the Deformation Modes Associated with Function Retention and Specialization in Members of the Ras Superfamily", by Francesco Raimondi, Modesto Orozco, and Francesca Fanelli in the context of protein flexibility evolution. In the article, the Ras superfamily is examined to understand how these proteins have retained a set of general dynamics serving their conserved function as molecular switches but have also acquired a new set of dynamics specific to each individual member's function. The Ras superfamily is a particular intriguing set of proteins due to their important role in controlling cell division, and mutations that activate Ras proteins are found in 25% of all tumor cells and in up to 90% of cells from specific types of tumors.

The Van Wynsberghe lab studies protein flexibility and dynamics using a variety of computational and theoretical techniques. The lab's general goals are to develop and utilize molecular simulation methods to investigate biological and biochemical systems from a physical and chemical perspective.