Van Wynsberghe Publishes Influenza Research in the Journal of the American Chemical Society
---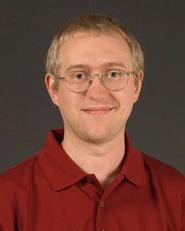 Assistant Professor of Chemistry Adam Van Wynsberghe has published a paper titled "Role of Secondary Sialic Acid Binding Sites in Influenza N1 Neuraminidase" in the Journal of the American Chemical Society. The work was carried out in collaboration with Jeffrey Sung, an undergraduate at the University of California-San Diego (UCSD), and collaborators from the University of California-Irvine and UCSD.

The research's primary focus is a computational comparison of how small drug-like molecules bind to neuraminidase from avian, human, and the recent "swine" influenza strains. Neuraminidase is an enzyme that participates in viral growth by releasing mature viruses from an infected cell, allowing continued infection. Consequently, neuraminidase has been a design target for drug molecules including the commonly utilized Tamiflu. The work highlights an important difference in the three strains regarding the differential binding of neuraminidase's natural substrate, sialic acid, to the enzyme's active site and a recently discovered non-catalytic binding site. These results point to possible insight into the variable transmissibilities and virulences of the three strains.

The Van Wynsberghe lab is continuing studies into these aspects of ligand-neuraminidase interactions using a variety of computational and theoretical techniques. The lab's general goals are to develop and utilize molecular simulation methods to investigate biological and biochemical systems from a physical and chemical perspective.

The work is currently published online in the journal's ASAP section (http://pubs.acs.org/toc/jacsat/0/0) and will appear in a print edition of the journal in approximately two months.