Van Wynsberghe's Work Featured by Oak Ridge National Labs
---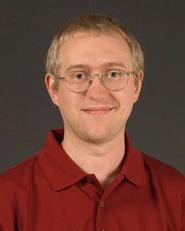 A paper recently published by Assistant Professor of Chemistry Adam Van Wynsberghe received notice in two different venues in the past month. It was featured on the Oak Ridge National Labs' supercomputing center website and was named a "must-read" by the post-publication review service Faculty of 1000.
The work*, which involved both computational and experimental scientists at a number of institutions, was published in the Oct. 25 edition of the journal Proceedings of the National Academy of Sciences of the United States of America (PNAS). These studies led to a more detailed understanding of the binding of ubiquitin and proliferating cell nuclear antigen (PCNA), important proteins involved in DNA replication. Van Wynsberghe's contribution to the work included the development of a coarse-grained sampling method called Tethered Brownian Dynamics that was utilized to create initial models of the protein-protein complex. Van Wynsberghe, in conjunction with Dr. Ivalyo Ivanov of Georgia State University, then further refined the models with additional classical simulation methods. These models were tested against experimental data to discover that the ubiquitin actually has several possible binding sites on PCNA.
The feature by Oak Ridge National Labs can be found here.
The work was also reviewed and cited by the Faculty of 1000 (F1000) service as a "must-read." F1000 reviews papers in the biomedical research fields after publication and recommends important findings to their users. F1000 reviews approximately the top 2 percent of work in biology and medicine.
In general, the Van Wynsberghe lab studies protein flexibility and dynamics using a variety of computational and theoretical techniques. The lab's goals are to develop and utilize molecular simulation methods to investigate biological and biochemical systems from a physical and chemical perspective.
* Tsutakawa S., A. Van Wynsberghe, B. Freudenthal, C. Weinacht, L. Gakhar, T. Washington, Z. Zhuang, J. Tainer, and I. Ivanov. 2011. "Solution X-ray Scattering Combined with Computational Modeling Reveals Multiple Conformations of Covalently-Bound Ubiquitin on PCNA." Proceedings of the National Academy of Sciences, 108 (43): 17672-17677. doi: 10.1073/pnas.1110480108.