Victoria Grieves '12 Interning at Environmental Law Institute
---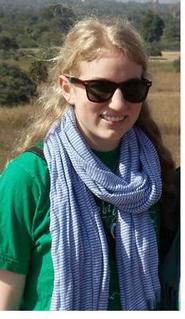 Climate change is a major topic of discussion among economists, lawmakers, businesses and the general public. As climate change becomes an increasingly pressing issue, environmental law gains importance for society. Victoria Grieves '12, an environmental studies major interested in environmental law, will spend the summer contributing to environmental efforts by serving as a research and publications intern at the Environmental Law Institute in Washington, D.C. Her internship is funded by the Levitt Center through its new Leadership Program.
The Environmental Law Institute, or ELI, is a non-profit, independent organization dedicated to conducting research and providing education about environmental issues. Founded in 1969, the organization aims to improve current environmental legislation and to develop new legislation. To achieve this goal, ELI provides training to law officials, lawyers and business leaders from around the world about environmental law. In an attempt to spread information even further, the Institute conducts research on areas of environmental concern and publishes this research in its own periodicals, such as the Environmental Law Reporter.
As a research and publications intern, Grieves will have the opportunity to attend congressional meetings, conduct research and write summaries on environmental issues for the Environmental Law Reporter and assist the staff with ongoing projects. Grieves hopes to pursue a career in environmental law, and so she views this internship as an opportunity to experience the sort of work environment she wants to be part of one day. She remarks, "I think my experience at ELI, which will be really hands-on, will help me decide if the field is really right for me." She particularly looks forward to gaining an inside view at how environmental law is created and what current environmental legislation looks like.
At Hamilton, Grieves furthers her interest in the environment as president of the Hamilton Environmental Action Group. She also runs track and cross-country for the Continentals, and enjoys baking and visiting parks. Grieves' major has led her to take many environmental studies and government classes, which she expects will be highly applicable to her internship. Her passion for environmental action drives her to seek change in current practices, and her internship will allow her the opportunity to make a difference.
Grieves is a graduate of New Canaan High School (Conn.)