Videras Assumes Levitt Center Directorship
---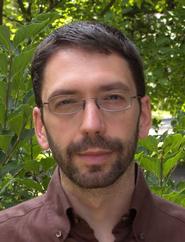 Associate Professor of Economics Julio Videras became the new director of the Arthur Levitt Public Affairs Center on July 1. He replaces Ann Owen, the Henry Platt Bristol Professor of Economics, who served a two-year term as the center's director and oversaw a reorganization of the center's programming and the initiation of several new projects.

Beginning in spring 2010, Videras had directed of the Levitt Program on Sustainability, which promotes academic research on sustainable practices and the necessary policies to achieve them. Associate Professor of Government Peter Cannavo will replace Videras as director of the sustainability program.

Videras noted that the Levitt Center's goals, structure, and programming are well established and that the center has provided resources and support to faculty and students, enhancing their academic experience. The center reorganized in 2010 into three, thematically based programs: Security, Sustainability and Inequality and Equity. Creating these groupings has facilitated interdisciplinary collaboration and discussion among those with similar interests, but potentially different perspectives. In addition to maintaining these programs, the Levitt Center is continuing to pursue new opportunities for the benefit of the campus community.

The new Levitt Leadership Initiative, the first element of which started this summer, is an obvious area for growth and development, according to Videras. A multi-pronged program, the initiative includes public service internships, research group grants, increased financial aid for students exploring careers in public service, an intensive two-week student leadership program, and faculty workshops to enhance the teaching of leadership skills in courses. Videras views this new initiative as offering unique opportunities for students across all disciplines to learn and practice the personal leadership skills that students need to fulfill their career goals and become leaders for their communities.

Another program in which the Levitt Center is a participant, the Rust to Green program, also continues to offer cross-discipline opportunities as it addresses community building issues that require integrating social sciences, the humanities and sciences into solutions. Videras considers this kind of research "eye-opening, offering a broader, holistic way to solve public political issues. By working across disciplines, we can create a common ground and richer debate with which to engage students." Videras also said that this program allows students to see how community issues can be addressed "from the bottom up."

Hamilton, via the Levitt Center, is also a member of the Rust to Green College Consortium. Other member institutions include Colgate, Utica College, Mohawk Valley Community College, Munson Williams Proctor Arts Institute, SUNY-IT and Proctor High School. The Levitt Center is hosting the consortium's website.

Research focused on local issues is another general area in which Videras hopes center programming will expand. He pointed to a project led by Associate Professor of Anthropology Chaise LaDousa with Chip Larsen '13, Ana Baldrige '12 and Paige Cross '13, who are working with literacy centers in Utica that provide tutoring opportunities for people who have not had regular exposure to technology. Videras believes these programs encourage future public service and increased community engagement, identified goals of the Levitt Center. "There are incredible opportunities just 20 minutes down the road in Utica," he said.

Videras' own research has focused on applied environmental economics, in particular how cultural and social factors influence the voluntary provision of the public good of environmental quality and sustainable development practices; and the relationships between community composition, collective action and the supply and demand of environmental goods.