View Hamilton's Live Honor Roll of Donors
---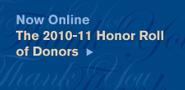 The Honor Roll of Donors reflects individual and collective alumni generosity in"real time" as gifts build in the 2010-11 Annual Fund, which closes on June 30. Take a minute to see who among your classmates has already made a gift and act now to be sure your name is among them.

You will notice some names on the list appear in gold (donors who have already made a 2010-11 gift) while others are gray (those who made a gift in 2009-10, but not yet this year). When it was first introduced, the honor roll listed only the names of alumni who have given in the current fiscal year. Several alumni who traditionally give just prior to year-end made the strong point that their names are not listed throughout the year even though they intend to give. The College agreed that stewardship of past donors deserves a place in the current year's honor roll. As of June 10 the list of donors was updated to recognize the generosity of those individuals who have yet to renew their gift this year. We encourage you to turn your name to gold by the June 30 deadline — or to start a new tradition of giving to Hamilton.

Names in the honor roll are noted by years of consecutive giving. Giving by gift level is accessible only to alumni and only then after one has logged in using one's username and password.

The Annual Fund remains a critical source of support of financial support for students and faculty. Fully 35 percent of the money needed to run Hamilton comes from donors, both past and present. Without these funds the Hamilton experience would not be what it is — a highly personalized education provided to exceptionally qualified students who graduate and enter an intensely competitive world armed with the cognitive skills and alumni network to support their success.

By any measure, Hamilton's Annual Fund is among the most effective among all institutions of higher learning in the United States. The most recognized metric of alumni generosity is participation in the fund. The rate at which alumni give back to their alma mater is an easy way for those outside of higher education to gauge loyalty and confidence in one's college or university. Participation, in effect, either enhances or detracts from the equity in a degree. A high rate influences grant makers and clearly indicates the degree of alumni investment in their school.

Many alumni wait until the end of the fund year to contribute. At fiscal year end the act of giving takes on increased importance. Alumni gifts, both large and small, matter. Last year 7,500 donors who individually gave less than a $1,000 collectively gave Hamilton more than a million dollars — the equivalent of the income derived from an endowment of $20,000,000.

Please remember that the proud tradition of alumni generosity continues to support the Hamilton experience one gift at a time. If you have given, please accept the thanks of the entire Hamilton community. If you have not yet done so, now is the time to impact the lives of students on the Hill. We want to honor you by noting your generosity. If you do not wish your name to be noted, please contact Assistant Director of Annual Giving Nikki Barbano at 315-859-4665 or nbarbano@hamilton.edu.