Visiting Artist Series to Host Photographer Tim Davis
---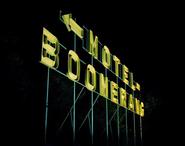 As part of the ongoing Visiting Artist series at Hamilton College, photographer Tim Davis will give a lecture on Wednesday, Feb. 3, at 4:15 p.m., in the College's Kirner-Johnson Auditorium. The event is free and open to the public.

Davis graduated from Bard College and earned a Masters of Fine Arts degree from Yale University. His photographic work delves into formal aspects of photography (light and abstraction) as well as socially engaged documentary.

Davis has had many solo exhibitions including ones at the Museum of Contemporary Photography in Chicago, the Bohen Foundation in New York City, and the Rencontres d'Arles in France. In 2004 he was a finalist for the Discovery Award at the Arles Photography Festival, and in 2008 he won the Joseph H. Hazen Rome Prize.

His work has appeared in such publications as America: Three Hundred Years of Innovation (2007) and Vitamin Ph: New Perspectives in Photography (2006). Davis taught at Yale University from 2001-2004 and currently teaches at Bard College.