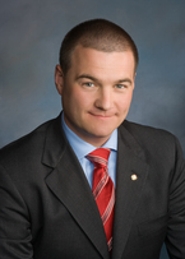 In The Wall Street Journal's The Weekend Interview, alumnus Matt Zeller '04 discussed the plight of Iraqi and Afghan interpreters who helped Americans during our nation's engagement in those countries and who now find themselves in great danger in their own countries. The article detailed the non-profit organization Zeller created, No One Left Behind, to get these individuals and their families moved and settled safely in this country. As a veteran who served in Afghanistan and whose life was saved by his own interpreter, he views interpreters as fellow veterans.
Titled "Operation Lost in Translation - What do we owe the Iraqi and Afghan 'terps' who fought with us in Iraq and Afghanistan? This Army vet is trying to save their lives," the story was published in the Journal's May 23 weekend issue. According to the article, Zeller enlisted in the National Guard and signed up for ROTC to become an officer. After graduating from Hamilton, "he studied Arabic at the University of Chicago and was then poached by the CIA. But in 2008 his National Guard unit was deploying to Afghanistan, and the Army claimed him back."
A 2008 decision by Congress granted special visas to the interpreters and translators who put their own lives at risk to serve American troops but the process can be rife with bureaucratic hurdles. Although No One Left Behind is primarily engaged in assisting interpreters and their families with resettlement, occasionally, it provides advocacy to Congress that has proven essential in securing the necessary visas to bring these translators to America. In July, Zeller and his organization convinced Congress to unanimously pass an additional 1,000 visas for Afghan translators.
The primary thrust of the organization is divided in three areas. Operation Welcome Home "meets the instant needs of an interpreter family: a place to live while they get on their feet. ... The second is Operation Got Your Back, which helps these Iraqi and Afghan families with jobs and assimilation. … The last is Operation Lost in Translation. This is designed to reunite the translators and interpreters with the military vets they served with. "
According to the article, "In scarcely a year and a half, No One Left Behind has helped 24 terps [interpreters] get their visas approved and 456 others, which includes family members, resettle here." But as word of the foundation grows, there also come more pleas for help. "And it's always the same: My family is in danger because I worked for the Americans. Please help us get out before it's too late."

Related stories: How to Win the War on Terror, Matt Zeller '04 to Discuss Experience in Afghanistan, and Panel Debates Current Situation in Afghanistan.