Washington Program Students Get Inside View of Lobbying from Baker '74 and Vlossak '89
---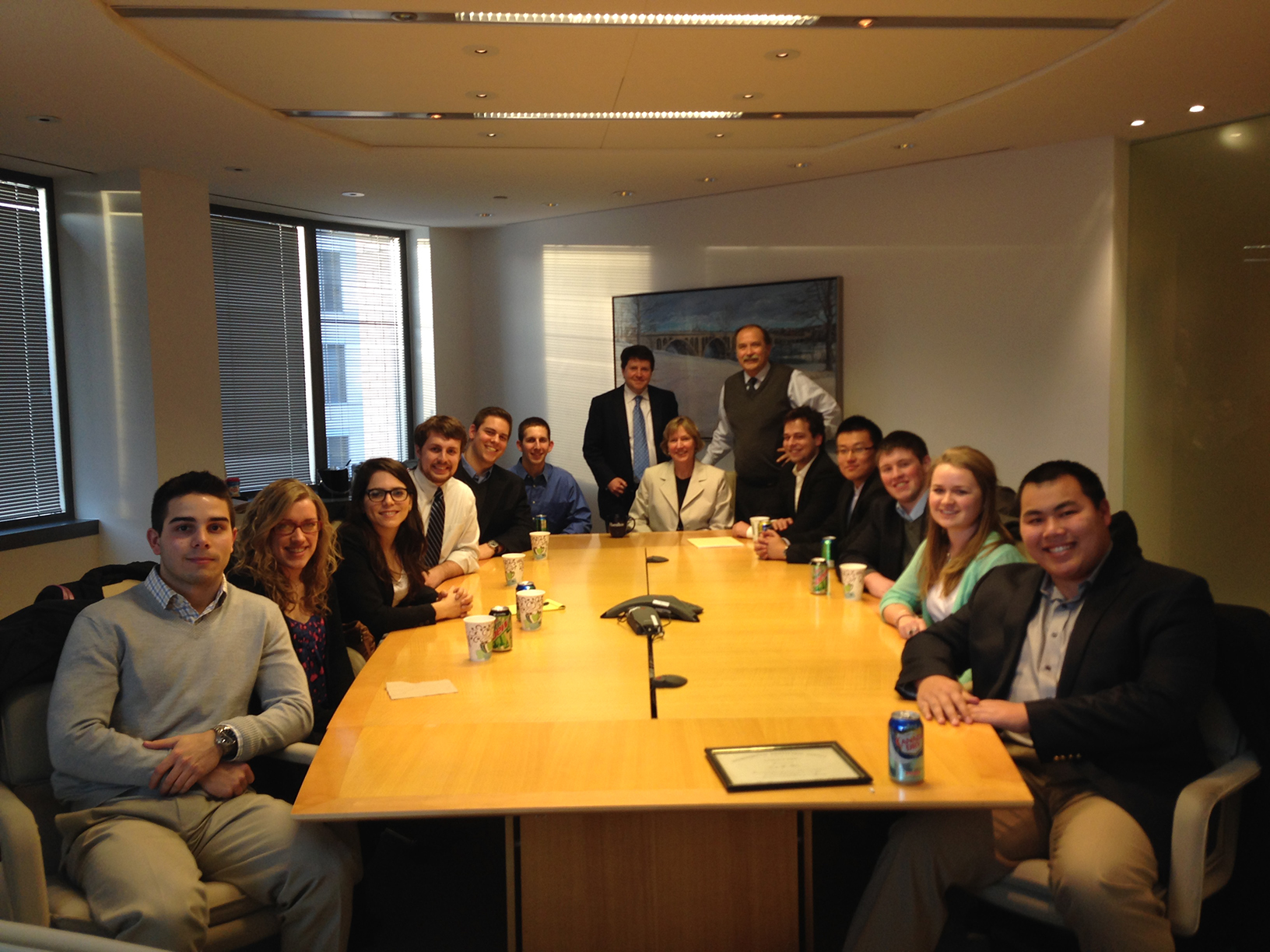 Students in the Hamilton College Program in Washington, D.C. met with George D. Baker '74 and Frank C. Vlossak IV '89 for an in-depth discussion of lobbying on Jan. 29. Baker and Vlossak are principals at Williams and Jensen PLLC, one of the few leading independent law firms in Washington with a practice focused primarily on lobbying.
At the meeting, Baker and Vlossak discussed their day-to-day responsibilities, the ways in which new technologies have affected their profession, new disclosure requirements and lobbying regulations in the post-Abramoff environment, the "human element" to lobbying, and the importance of credibility and coalition-building in their work.
Vlossak described his journey from College Hill to Capitol Hill, where he worked as a legislative assistant while attending George Mason University Law School at night, and he urged the students to take advantage of the Hamilton alumni network as they look ahead to graduation. He also stressed how his work as a lobbyist requires a great deal of research and writing, as well as the ability to quickly identify and synthesize information of relevance to clients.
Brendan Cunningham'15, a public policy major, called the meeting with Baker and Vlossak "an extremely rewarding experience. Lobbyists typically have a bad reputation, especially in the media, and it was great to finally hear the other side of the story from two successful men who play a crucial role in the legislative decisions that our lawmakers execute everyday."
These sentiments were echoed by Alicia Rost '15, also a public policy major. She appreciated their "new, positive outlook on lobbying." In addition, she remarked that lobbying "had never been a career path on my radar before, but after the meeting I found that it is something I am interested in investigating further."
Ralph Jerome '15, a world politics major, concurred: "It's one thing to learn about lobbying out of a textbook or in a classroom. It's quite another thing to actually go to a lobbying firm and hear firsthand about the day-to-day activities that lobbyists engage in. I feel like I have a better understanding of what it really means to be a lobbyist because I learned things that they don't tell you in the textbooks."
Baker and Vlossak regularly interact with Hamilton students, not only in Washington, but also in Clinton. They team-taught a course on interest groups and lobbying at Hamilton in 2008 and 2012. As a result of their involvement with college students both on and off campus, they felt free to offer some personal advice as well. Baker told the students that this may indeed be one of the most formative semesters they will ever have at Hamilton, in that they have the opportunity to see how their academic studies relate to real life situations. He urged them to take advantage of everything that Washington has to offer: "Read several papers in the morning, like everyone else who lives and breathes politics in this town does. Go to a museum whenever you have free time and sit in on congressional hearings. Attend one of the many lectures that are held each and every day."
Now in its 44th year, the Hamilton College Program in Washington (offered every semester) is designed to supplement classroom and campus work by giving students the opportunity to study first-hand the operations and programs of the federal government. Thsi spring it is being directed by Associate Professor of Government Sharon Werning Rivera.