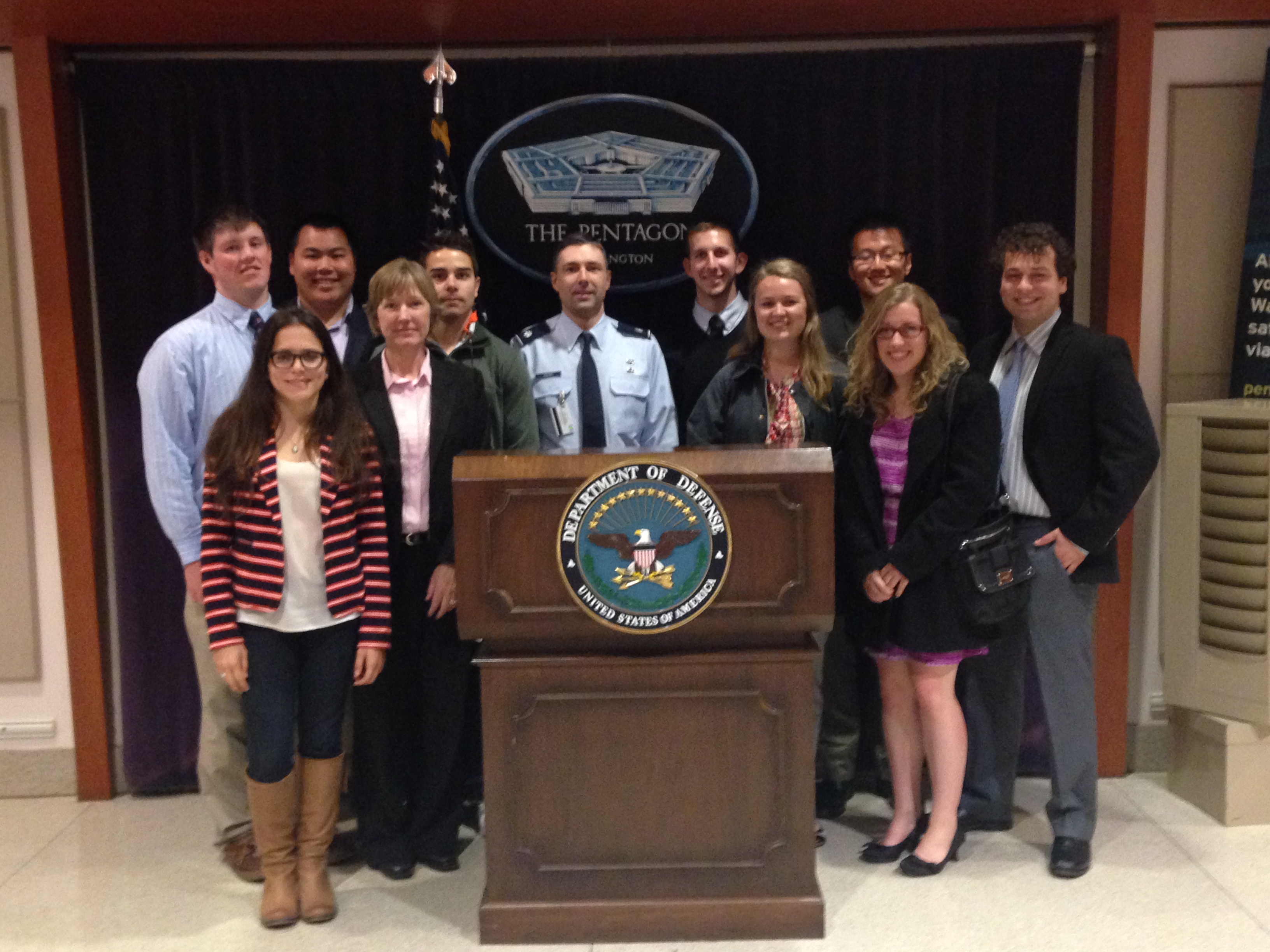 Students in the Hamilton College Program in Washington, D.C., were treated to a private tour of the Pentagon by Lt. Col. Eric Hannis '90 on April 16. He is currently serving as the country director for Kyrgyzstan, Kazakhstan, Uzbekistan, Tajikistan, and Turkmenistan in the Middle East Division of Air Force International Affairs.
One of the most moving stops was at the 9/11 Memorial, which is dedicated to those who lost their lives during the terrorist attack on the Pentagon on September 11, 2001. Col. Hannis was working in the wedge adjacent to the place where the plane crashed and recounted for the students the tragic events of that day.
There are many Hamiltonians who have served with distinction in the U.S. Armed Forces, and Hannis shared the wealth of knowledge on this topic that he has acquired. For example, Hamilton claims two Medal of Honor recipients as alumni (Capt. Morris Brown, Class of 1864, and Charles Holton, Class of 1863), whereas the U.S. Air Force Academy and the U.S. Coast Guard Academy each only claim one Medal of Honor recipient.
Hannis took the students to view Pentagon portraits of influential Hamilton alumni, such as Elihu Root, Class of 1845, who served as Secretary of War under two presidents, including President Theodore Roosevelt.
Vincent DiCindio'15 commented, "Col. Hannis's 'Hamiltonian' tour not only showed us some of the amazing history of the Pentagon, but also an impressive and interesting side of Hamilton's history that we all felt very proud of."

These sentiments were echoed by Christopher Jusuf '15. "Being able to tour the Pentagon with Col. Hannis was a great experience. There was an overarching feeling of importance inside the massive building, and it was nice that Col. Hannis tailored his tour to show us all the notable Hamiltonians who have played a major role in the history of America's armed services."