Washington Program Visits World Bank
---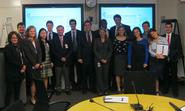 Students in the Washington Program met with World Bank Vice President for Latin America and the Caribbean Hasan Tuluy P '08, on April 26 at the World Bank. Prior to assuming this position in January, Tuluy was the World Bank's vice president for human resources. He has also served in various other positions with the World Bank including chief operating officer for the Multilateral Investment Guarantee Agency (MIGA), director of Strategy & Operations in the Middle East and North Africa Region, and director of Corporate Strategy.
During lunch with the students, Tuluy gave a presentation about "World Bank 101" and, through a series of examples, challenged students to think about tradeoffs in decision-making about economic development. Louise Cord, senior manager of the Poverty, Gender, and Equity Unit, then gave a presentation on "Declining Inequality in Latin America: Achievements and Challenges," helping students to think through the complexities of why the path of Latin America has diverged from other regions of the world.
Established in 1944, the World Bank is a unique partnership to reduce poverty and support development. The bank comprises two institutions managed by 187 member countries: the International Bank for Reconstruction and Development (IBRD) and the International Development Association (IDA). The IBRD aims to reduce poverty in middle-income and creditworthy poorer countries, while IDA focuses exclusively on the world's poorest countries. Headquartered in Washington, D.C., the World Bank has 9,000 employees in more than 100 offices worldwide.