Washington Students Discuss the Craft of Politics
---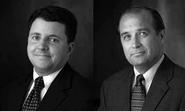 On February 1, students in the Semester in Washington Program met with George Baker '74 and Frank Vlossak '89, principals at Williams and Jensen PLLC. Williams and Jensen is one of the nation's leading, independently owned government affairs law firms.
After briefing students about the nature of their work in government relations, Baker and Vlossak led a discussion on topics ranging from the challenges of legislating in an era of hyper-partisanship to the recent grassroots campaign against the Stop On-line Piracy Act to careers in politics and policymaking.
In fall, 2012, Baker and Vlossak will return Hamilton to reprise their course on lobbying and government relations.
To follow the lives and ideas of students on the Semester in Washington Program, visit their blog, Potomac Fever.