D.C. Students Meet with Co-Chair of Commission on Presidential Debates
---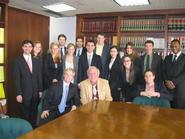 On Feb. 15, students in the Program in Washington met with Michael McCurry P '13, co-chair of the Commission on Presidential Debates. CPD was established in 1987 to sponsor and produce debates for the United States presidential and vice presidential candidates and to undertake research and educational activities relating to the debates. The organization, which is a nonprofit, nonpartisan, 501(c)(3) corporation, sponsored all the presidential debates in 1988, 1992, 1996, 2000, 2004 and 2008.
McCurry is a partner at Public Strategies Washington, where he provides strategic communications counsel to the firm's corporate and non-profit clients. He is a veteran communications strategist and spokesperson with nearly three decades of experience in Washington D.C. McCurry served in the White House as press secretary to President Bill Clinton. He also served as spokesman for the Department of State and director of communications for the Democratic National Committee.
The lively discussion ranged from the role of debates in presidential elections to the challenges of political communication in the new media environment to the current political climate in Washington.
To keep up with the lives, work, and ideas of students in the Semester in Washington Program, visit their blog Potomac Fever.