Watchdog of $800 Million Speaks at Hamilton
---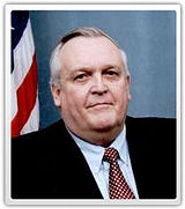 According to some estimates, the average federal grant or stimulus program can see as much as 7 percent of its funding lost to fraud and waste. In an $800 million program like the 2009 American Reinvestment and Recovery Act (ARRA), this loss would amount to more than $55,000,000, making fraud prevention a priority.
With this in mind, President Obama and his advisers oversaw the formation of the Recovery Accountability and Transparency Board (RATB), which was tasked with minimizing fraud within the ARRA and increasing overall transparency in federal spending, and appointed former Inspector General of the Department of the Interior Earl E. Devaney as its chairperson. So far, the RATB has managed to reduce ARRA fraud to an unprecedented 0.05 percent and has laid the foundation for increased transparency in dozens of other federal departments. Devaney spoke at Hamilton on March 7 as part of the Levitt Center's Security Program.
When Devaney walked into the West Wing of the White House on a cold day in February of 2009 to discuss the possibility of heading the Recovery Transparency and Accountability Board, he had every intention of politely declining the offer and passing on a list of individuals he felt were more qualified candidates. However, once he found himself standing face to face with President Obama in the Oval Office, the words he found coming out of his mouth were "Yes, Mr. President, I'll do it." Minutes later, and much to his wife's surprise, Devaney found himself on national television listening to the president announce his appointment to chairman of the Recovery and Transparency Accountability Board before a group of the nation's governors.
As Devaney recalls, he wasn't quite well practiced enough that day to be capable of "saying 'no' to the President of the United States of America."

Despite his initial reluctance to take on the position, Devaney's extensive resume boasts all of the necessary qualifications to head of the largest stimulus project in the country's history. He served as both the special agent-in-charge of the Secret Service's Fraud Division and as the director of criminal enforcement for the Environmental Protection Agency before being named inspector general of the Department of the Interior in 1999, where he oversaw the investigation of famed disgraced lobbyist Jack Abramoff. Despite Devaney's extensive experience in fraud oversight, the task laid before him in 2009 was far from easy.
One of the first tasks the Recovery Accountability and Transparency Board was set to undertake was the creation of a publicly accessible website, called Recovery.gov, to document how and where every penny of the multi-billion dollar spending package would be distributed. The procurement of a web-design vendor for a project of Recovery.gov's magnitude generally takes a federal agency around eight months to complete and the subsequent website creation often takes another year or more. With a timeframe measured in months and not years, the Recovery and Transparency Board delivered not one but two products that would revolutionize the area of spending accountability.

The two Recovery.gov websites created under Devaney's leadership allowed recipients of federal funds to electronically submit and track their spending and taxpayers to view exactly how and where recovery dollars were being spent, right down to towns and zip codes. In addition to these transparency mechanisms, the Recovery and Transparency Board also put into place an innovative cloud-based fraud detection system that used nearly 30 federal databases to conduct a "fraud background check" before awarding ARRA funds to any organization. This proactive approach completely revolutionized the traditionally reactive world of fraud detection and helped the ARRA to achieve incredibly low fraud figures while using only a fraction of the number of analysts agencies typically employed by oversight agencies. The program is currently being expanded to conduct fraud-checks for a number of other federal agencies.

Devaney stepped down from the chairmanship of the Recovery and Transparency Board in 2011 and is currently enjoying retirement with his wife in Florida, but the impact of his work to improve transparency remains. Taxpayers can still visit Recovery.gov to see how stimulus money has been spent in their towns, and federal agencies are increasingly moving to the aggregated cloud databases that were pioneered under Devaney's leadership. Even the European Union has taken note of the Recovery and Transparency Board's progress in increasing accountability, and the U.S. is yet again leading the way in areas essential to democratic governance.