Weldon Presents at Neuroscience Meeting
---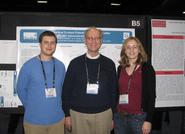 Stone Professor of Psychology Douglas Weldon presented a poster titled "Visual Cortical Evoked Potentials During and After MK-801 Administration in Rats" at the annual meeting of the Society for Neuroscience on Nov. 16 in Washington, D.C.
The poster included data collected by co-authors Nicholas Scoglio '09 and Sven Oman '10 as part of their senior project and summer research work, respectively. The findings were that N-methyl-D-aspartate receptor blockade by the drug MK-801 produced acute changes in electrophysiology that did not persist beyond the period of drug treatment. The findings are relevant to the use of MK-801 as an animal model of schizophrenia, which assumes that the drug produces a reorganization of brain circuitry that leads to abnormal behavior.

More than 32,000 people attended this year's conference, described by the Society for Neuroscience as "the premier venue for neuroscientists from around the world to debut cutting-edge research on the brain and nervous system." Hamilton was well represented with at least 19 Hamilton alumni attending, including Daniel Chandler '08 and Carlyn Patterson '06 who also presented at the meeting.