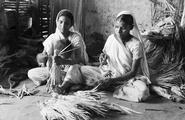 "Refocusing the Lens: Pranlal K. Patel's Photographs of Women at Work in Ahmedabad," an exhibition at the Ruth and Elmer Wellin Museum of Art, closes on April 15. The exhibition is free and open to the public.
ARTnews, "the oldest and most widely circulated art magazine in the world," declared the exhibition one of the "10 Must-See Museum Photo Shows of Spring 2014."
"Refocusing the Lens" features images depicting women at work in the homes, neighborhoods and markets of Ahmedabad, India, in 1937. The photographer, Pranlal Patel, died this January at the age of 104 in Ahmedabad. His images reveal a bit about the history of Indian women, particularly members of the working class, as workforce participants in early 20th century.
Patel's approach was noteworthy because he shot in the field rather than in the studio; the resulting images offer an unprecedented documentary view of Indian society. The show is co-curated by Associate Professor of History Lisa Trivedi, who met Patel and his family as a doctoral student two decades ago, and Assistant Professor of Photography Robert Knight.
The Wellin Museum is open Tuesday through Sunday from 11 a.m. to 5 p.m. and is closed on Mondays and college holidays. Admission is free. For more information on parking and wheelchair accessibility, please call 315-859-4396.