Wellin Museum Objects Featured in Deseret News
---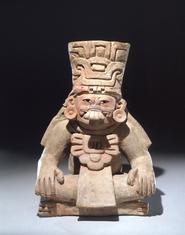 Visiting Associate Professor of Religious Studies S. Brent Plate was featured in an article in the Deseret News National Edition titled "How religious art makes secular museums into sacred spaces," published on Jan. 3. The article focused on an American Academy of Religion/Society of Biblical Literature Conference panel titled "Sacred Objects in Secular Museums" which Plate moderated. Two sacred objects from the Wellin Museum of Art, an Austrian Schwaz Nativity and a pre-Columbian seated funerary urn, were also displayed prominently in the article.
The article focused on the fact that a growing demographic of people are going to museums for a spiritual experience instead of a historical one. As the moderator of the aforementioned panel, Plate asked, "Can curators take on priestly activities?"
"I'm not saying museums shouldn't display sacred objects, but museums and audiences should realize on some level that what they are experiencing in the museum is not the same as experiencing it in its native context," Plate said in an interview with reporter Menachem Wecker. "And, for the most part, much of its sacrality has been stripped."
According to its website, the Deseret News National Edition is an in-depth news source that covers issues from a faith and family perspective.