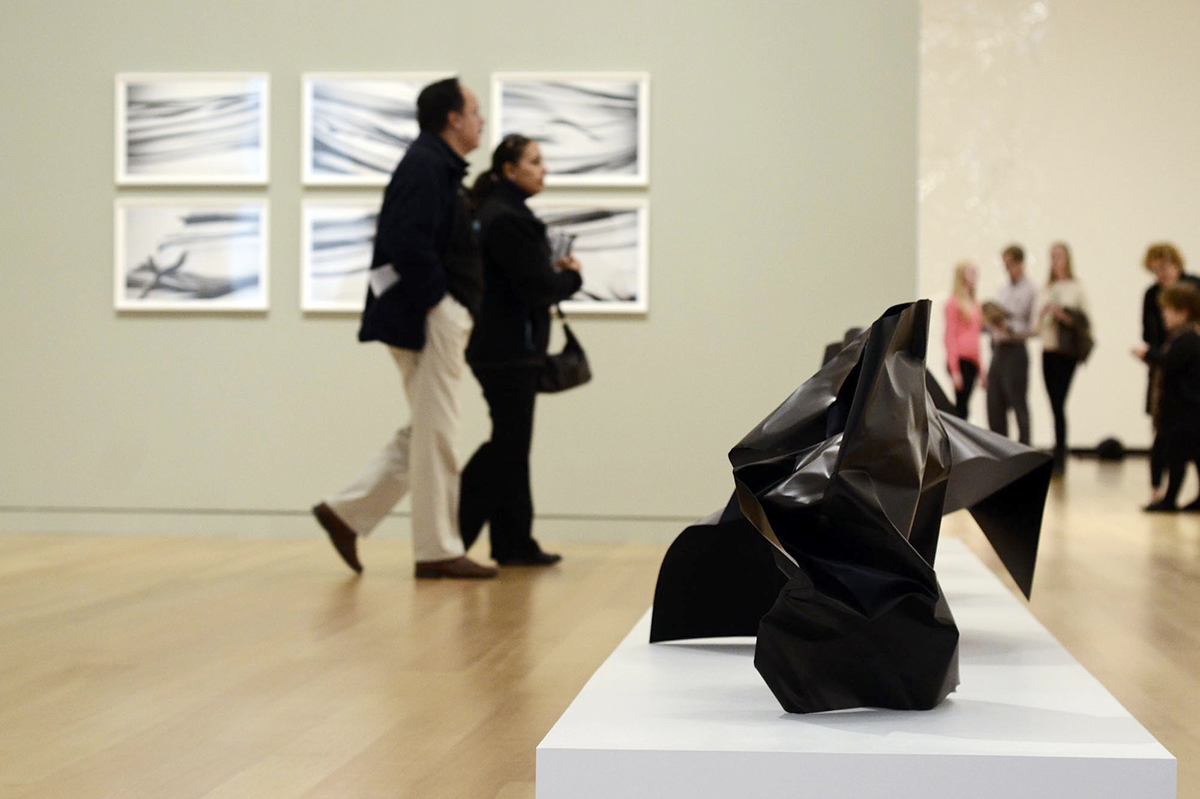 Hamilton College's Ruth and Elmer Wellin Museum of Art presents "Alyson Shotz: Force of Nature" opening Saturday, Oct. 11, from 4 – 6 p.m. This eponymous exhibition features new and recent work by Alyson Shotz, an abstract artist who creates monumental sculptures, photo-collages and installations. Preceding the opening reception, Shotz will discuss her work from 3 – 4 p.m. in the museum. The exhibition, opening and artist's talk are free and open to the public.
Brooklyn-based sculptor Shotz examines the properties and interactions of light, gravity, mass and space in her work. The exhibition showcases a broad range of the artist's creative output featuring large-scale sculptures, prints, ceramics, a wall drawing and an animation, many of which are on view for the first time.
Using a range of materials such as wire, plastic, metal, mirror and glass, Shotz creates intricate structures that are transformed by their interaction with natural phenomena such as gravity, motion and light. At the Wellin Museum, Shotz's work directly responds to and incorporates the natural light that pours in through the museum's north- and south-facing gallery windows, as well as in the museum's common areas.
Shotz created several new and site-specific works for this exhibition. She constructed a large-scale, wall drawing comprised of white linen thread strung on carefully sited nail heads with which Hamilton College students assisted her this summer. "I really enjoyed working with the incredibly motivated Hamilton students," Shotz remarked. Students who worked on the install of "White Fold" were Lily Johnston '16, Lesley Klose '15, Caroline Rudd '16 and Sarah Scalet '15.
Expanding the exhibition beyond the Wellin's galleries and into the museum's iconic Archive Hall, Shotz created a band of vinyl decals, which will be on view on a long-term basis, that produce the effect of etched glass on a section of the 27-foot-tall glass display cases. The delicate etchings, comprised of forms resembling ovals in rotation, will echo and reinforce the shape of a new, suspended sculpture that Shotz also created for the exhibition. Reminiscent of a Möbius strip, the sculpture will explore the geometric concept of a continuum — a shape without boundaries or end.
The exhibition, organized and curated by Wellin Museum Director Tracy L. Adler, will travel to the Halsey Institute of Contemporary Art at the College of Charleston in May 2015. A fully illustrated, hardcover, monographic catalogue will accompany the exhibition. It will feature essays by Veronica Roberts, curator of modern and contemporary art at the Blanton Museum of Art at the University of Texas, Austin, and Nat Trotman, associate curator at the Guggenheim Museum, New York City.
About Alyson Shotz:
Shotz received a BFA from the Rhode Island School of Design and an MFA from the University of Washington in Seattle. Her work reflects her interest in physics and the natural world. In 2012, Shotz was the Sterling Visiting Professor in the Department of Chemical and Systems Biology at Stanford University. Shotz's recent solo exhibitions include "Alyson Shotz: Fluid State" (Indianapolis Museum of Art) and "Alyson Shotz: Ecliptic" (Phillips Collection, Washington, DC). She has also had solo exhibitions in New York City, Tokyo, Stockholm, Dallas and Columbus, Ohio.
About the Ruth and Elmer Wellin Museum of Art:
The Ruth and Elmer Wellin Museum of Art at Hamilton College opened in October 2012. The museum promotes interdisciplinary research and the cross-fertilization of concepts and ideas vital to a liberal arts education. The museum works with emerging and established artists and collaborates with Hamilton students and faculty to develop programming promoting a wide range of disciplines. Designed by Machado and Silvetti Associates, the museum includes a 27-foot-high visible archive, 6,200-square-foot exhibition space, and other amenities to encourage exchange and learning.
The exhibition, which is free and open to the public, will close on April 5, 2015. Located at the corner of College Hill Road and Griffin Road on the Hamilton campus, the museum is open Tuesday through Sunday from 11 a.m. to 5 p.m. and is closed on Mondays and college holidays. Free parking is available behind the museum. For more information on parking and wheelchair accessibility, please call 315-859-4396.