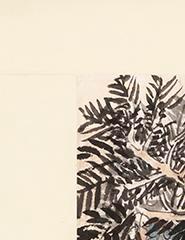 Two exhibitions, Yun-Fei Ji: The Intimate Universe and Pure Pulp: Contemporary Artists Working in Paper at Dieu Donné, open at the Ruth and Elmer Wellin Museum of Art on Saturday, Feb. 6, with a free, public reception from 4 – 6 p.m. Yun-Fei Ji: The Intimate Universe, curated by Wellin Museum Director Tracy Adler, will be open through July 2. Pure Pulp will be open until April 20. Both shows will travel to other venues.
Yun-Fei Ji is a Beijing-born artist whose artwork does not focus on the idealism characteristic of traditional scroll painting, but rather the gritty reality of contemporary life in China, including the forced relocation of villages and climate change's effects on the natural environment. The show, Ji's largest solo exhibition in the United States, features a selection of paintings, drawings and scrolls created in the last decade. An intimate scroll room, entered via a moongate, has been constructed for viewing several of the larger scrolls, and the gallery environment has been designed to subtly evoke the forms and creative landscape of a traditional Chinese garden.
The displacement of over a million and a half people due to the construction of the Three Gorges Dam on the Yangtze River is the basis for one long scroll on view, "The Move of the Village Wen (2012)." Many of the more recent drawings and scrolls convey a sense of a world no longer in harmony and a present day haunted by ghosts of the past.
"We at the Wellin hope that this exhibition will provide a platform for launching a dialogue about the relationship between art, power, politics and the environment," Wellin Museum Director Tracy Adler said. This winter, the curricula of a number of Hamilton College courses will incorporate concepts and ideas relating to the exhibition, and the Wellin will also offer programs for K-12 students. The show will travel to the Honolulu Museum of Art from Sept. 29 to Feb. 5, 2017.
Along with Yun-Fei Ji's exhibition, Pure Pulp: Contemporary Artists Working in Paper at Dieu Donné will showcase works in paper. In this show, paper is not a substrate, but rather the medium itself. The exhibition features a selection of works representing a wide range of achievements that defy expectations of paper's capacity as an artistic medium. All works on view are made entirely from organic paper pulp produced from fibers such as cotton and linen in the Dieu Donné workshop. These basic materials are interpreted by each resident artist, resulting in an enormous variety of artistic output.
Organized by the Ruth and Elmer Wellin Museum of Art, Pure Pulp will travel to the Robert C. Williams Museum of Papermaking at Georgia Tech in Atlanta and the Dedalus Foundation in New York City.

About the Ruth and Elmer Wellin Museum of Art
Wellin Museum of Art hours are Tuesday through Sunday, 11 a.m. - 5 p.m. The museum is located on campus at the intersection of College Hill Road and Griffin Road. Parking and admission are free of charge. Further information is available by calling 315-859-4396 or visiting the website.
Since its opening in October 2012, the Ruth and Elmer Wellin Museum of Art has brought 13 exhibitions, 8 publications and 70 public programs to well over 30,000 visitors. More than 2,000 public school students from nine area school districts have visited the museum since it opened.
The Wellin has hosted ongoing focus groups with area school districts, educator events and teacher think tanks to better serve the surrounding communities. Through its exhibitions, public programs and educational outreach, the museum promotes interdisciplinary research and the cross-fertilization of concepts and ideas vital to a liberal arts education. The museum works with emerging and established artists and collaborates with Hamilton students and faculty to develop programming promoting a wide range of disciplines.